519 N Highland Ave
,
Jackson
,
TN
38301-4824
,
USA
Free Night Participating Inn
Innkeeper/s: Sheree Williams
Description
Circa 1911. Whether traveling for business or pleasure, a stay at this elegant Colonial Revival mansion will relax and inspire. Conveniently located in a quiet downtown historical district, the perfect blend of o...
Get a Free Night at this inn
The dates this property will honor the certificate are Accepts Weekends,Anytime, subject to availability,Anytime, Last Minute-Based on Availability,Accepts Weekends, Anytime, subject to availability; Anytime, last minute - based on availability.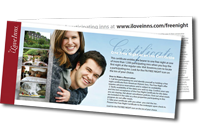 - One Night Free: This property is featured as participating in the iLoveinns.com Buy-One-Night-Get-One-Night-Free program.
Romantic escape
We loved the ambiance and artistic verve of the Highland Place Inn. The owners anticipated our every need in the well-designed Wall's Atrium, a very private and romantic retreat. Our suite and the rest of the house were like an artistic excursion to the Southwest, an unforgettable experience. Breakfasts were delicious and elegantly presented on handmade pottery dinnerware, in keeping with the Southwestern theme.
Susan Morgan
3/23/2009
| My ratings for this property | |
| --- | --- |
| | Location |
| | Comfort |
| | Condition |
| | Cleanliness |
| | Service |
BOTTOM LINE: I would stay here again.
Did you find this review helpful?
Yes
(
0
votes)
Never Again!
Very disappointing stay at Highland Place B&B Inn in Jackson, TN! I originally booked the Butler Suite and the Louis Room for my sister-in-law and myself. A combined photography job and overnight antiquing trip. I have stayed at quite a few B&B's, this was her first time. We had to cancel our original trip due to weather and received a gift certificate for any time, any room. Upon rescheduling, I requested the same rooms (Louis and Butler) and Bill suggested the Hamilton and Butler, since they were on the same floor. I agreed saying, "I just did not want the Adobe looking room, the Atrium." Now, I will just list the problems. 1. Upon arrival we were met by Bill and shown around the B&B. Right away he introduced us to his big as real life stuffed sheep with horns...named Horny. Immediately we were uncomfortable! No sign of Cyndi until the next morning. 2. We were told we would not be getting the Butler Suite, a problem with scheduling? We would be staying in the Hamilton and the Atrium (the Atrium is the one I did not want, in the basement, two floors down!) 3. All rooms are advertised as having a private bath. The Hamilton (where my sister-in-law stayed) has a bath across a small hallway. The hallway has four doors; one to the room,one to the bath, one to the main hall, and one to the private rooms of the owners. Needless to say, if your bathroom is across a hallway frequented by others, it is not private! 4. The rooms lock from the inside, there are no keys to lock your room when you leave. We felt uncomfortable when we left our belongings to go to dinner. My sister-in-law carried her purse with her to the bathroom...across the hall! 5. The Atrium's "sun-filled sitting room" appears to be made of Plexiglas and is at ground level. Not exactly a safe feeling for a woman alone in the basement. There are heavy curtains to pull to between that area and the bed. 6. I slept (if you can call it that) in the Atrium...in the basement. Bill decided to get the dining tables set for breakfast at 10:30 PM. Every step, every chair moved was right above my head and very noisy. At 11:00 PM I went upstairs and told him I could hear every step he took! I was so discussed by that point that I never really got back to sleep. 7. My sister-in-law's room faced the very noisy street; sirens and traffic kept her awake all night long. But that was good, she was so worried about where I was staying that she prayed for my safety every time she woke up. 8. I think the topper was when we realized the Butler suite had been given to a Doctor and his wife from Alabama. Their good friend, who lived in Jackson, and was also friends with Cyndi and Bill, came in before we left. And, "darling she was so thrilled that they could be accommodated on their quick trip!!" 9. The other room we originally booked was given to another couple traveling from Texas to New Jersey. The best rooms went to the couples, even though we booked them first. The cost for a room is more for a couple. They also already had our money. Breakfast was delicious. After we ate we made a number of trips up and down to put our belongings into our vehicle. The owners were so wrapped up with the Doctor, his wife, and their friend that they did not even acknowledge our departure. We were so unhappy and felt as though we had been taken advantage of, so we didn't say good-bye. I have had some disappointments at other B&B's, but none that have compelled me to write a formal complaint! I would never recommend this Highland Inn as a dependable place to stay...unless you have connections. Cozette Winters
Cozette W
Clarksville, TN

Management Response
My sincere apologies to you and your sister-in-law for the disappointing visit you experienced at Highland Place B&B Inn. Given the tenor in your correspondence, there seems little that I can say to allay your frustration. No business owner wishes dissatisfaction in their services. There are always two sides to any story. I'll address our side. Most of your letter deals with negative feelings. We are humans with emotions that often color perceptions …especially when disappointment begins the experience. Perhaps you didn't understand that as guests traveling under the business rate, you forfeit room selection, though we do try to meet preferences. In reference to your underlined statement, "they also already had our money", we could have simply charged you for the rooms without giving you a gift certificate for future use within the next three years. Yet, you seem to have no appreciation for our original gesture of generosity. There was no obligation on our part to offer you any compensation when you cancelled your first visit at the last minute. No small inn can afford cancellations at the last moment. Worse, potential guests requesting rooms may have to be turned away. Security and room keys: There is a security system in place at the inn, and one of us (my husband or me) is always here. After twenty-five years in business, the inn has no record of a complaint about keys to the rooms. In fact, and if you had mentioned your concerns to us, we could have made sure that you understood that your room had a lock and key that you were given. Private bathrooms: All of our guest rooms have their own private bath. The Hamilton Room bath is used exclusively for that room, and our other guest rooms have ensuite baths. Perceived preferential treatment: You've apparently misjudged our relationship to our guests. Your correspondence implies, multiple times, that we give preferential treatment to some guests and ignore others. This seems to be a big issue for you, since you mention it in points eight and nine. We strive to be friendly and of service to all guests while being sensitive to those guests needs. This is appreciated over and over in notes left in room journals, where guests write their own reviews. Apparently, with your attitude already set to negative, you read into our friendly service a slight toward you and your sister-in-law. I assure you this was not the case. We treat our guests with equanimity, to the best of our abilities. Though we had two returning guest couples the day of your visit, beyond recognition of the fact that they were returning, we are grateful to all coming to our inn. Departure acknowledgement: You make a point of saying that you intentionally left without saying good-bye, yet somehow transpose this perception as …our not acknowledging you. We were in the kitchen or working in the dining room, busy with guests' needs. There was no intention here to slight you, but obviously this was your perception. I did find it unusual that you drove off without saying anything. Our guests usually come by to say good-bye. Now, your parting paragraph was more than damning! It's one thing to offer your opinions to us to improve what we do…and we always encourage instructive criticism. But your comments, aimed at destroying a reputation built carefully over a decade, are ultimately cutting, vindictive, and punitive. It's difficult to see how to salvage any grace over your disappointment. As we have already apologized for any inconvenience when you arrived, we again offer our sincere apologies.
This response is the subjective opinion of the management representative and not of iLoveInns.com or American Historic Inns, Inc.
| My ratings for this property | |
| --- | --- |
| | Location |
| | Comfort |
| | Condition |
| | Cleanliness |
| | Service |
Did you find this review helpful?
Yes
(
1
votes)
This review is the subjective opinion of an iLoveInns.com user and not of iLoveInns.com or American Historic Inns, Inc.
At A Glance
| | |
| --- | --- |
| Excellent | |
| Very Good | |
| Average | |
| Poor | |
| Terrible | |
Discussion
American Historic Inns, Inc. is not responsible for content on external web sites.
© 2023 American Historic Inns, Inc. All Rights Reserved.
ILOVEINNS and the ILOVEINNS logo are trademark of American Historic Inns, Inc.