1018 North Market Street
,
Wichita
,
KS
67214
,
USA
Free Night Participating Inn
Innkeeper/s: Ken Elliott
Description
Circa 1889. Completely renovated and redecorated, this historic brick home offers elegant, quiet and comfortable surroundings with a wide assortment of upscale amenities. Schedule a massage or facial, select a ro...
Get a Free Night at this inn
The dates this property will honor the certificate are Sunday-Thursday, excluding holidays, subject to availability..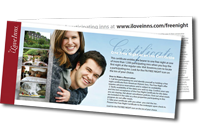 - One Night Free: This property is featured as participating in the iLoveinns.com Buy-One-Night-Get-One-Night-Free program.
Unique Experience
Amazing house and had a great time. The house is gorgeous. The breakfast impeccable. Will come back again!
Stacey Sparger
Seattle, WA

| My ratings for this property | |
| --- | --- |
| | Location |
| | Comfort |
| | Condition |
| | Cleanliness |
| | Service |
BOTTOM LINE: I would stay here again.
A Romantic Christmas
We chose this Inn for our annual Christmas getaway in December 2015. The house is old, one of the oldest structures in Wichita, but it is great! It is located in a quiet neighborhood near Old Town, Wichita and the river front district. The Christmas decorations were amazing! Breakfast is served to your room or in the dining room. We recommend ordering one tray and splitting it for 2 people! The food was home made and in generous quantities! We also recommend spending the extra $20 for early "check in" in the afternoon. It lets you enjoy the amenities for several hours more! The staff were very friendly and helpful! Overall we were very satisfied!
Craig Whitford
Tecumseh, KS

| My ratings for this property | |
| --- | --- |
| | Location |
| | Comfort |
| | Condition |
| | Cleanliness |
| | Service |
BOTTOM LINE: I would stay here again.
This review is the subjective opinion of an iLoveInns.com user and not of iLoveInns.com or American Historic Inns, Inc.
Worst B&B experience
We recently stayed two nights at Serenity Bed and Breakfast in Wichita Kansas using a free night if you bought one night gift certificate with iloveinns. When I called to make reservations and to schedule a massage he said that he can have someone come to do the massage but not as a couples one they would have to be back to back. I said okay and set up a time for that. He never mentioned that there would be 2 dogs in the home and that the home was filled with crap! Once we got there he was rude upon answering the door and demanded to know who we were. The bed and breakfast is in a very questionable neighborhood and we had a lady covered in bruises banging on our car window demanding money and a ride. We told her we did not have any cash and waited in our locked car till she left. The outside of the b&b had trashed piled up and a urine soaked rug on the porch that you could instantly smell once out of the car. The porch has furniture he is working on all over it. Once inside the door I immediately saw pile after pile of dog throw up and was greeted with two dogs barking and growling at us. It was absolutely disgusting. When I said something about it he said that they must be ill from eating something bad and did not proceed to clean it. Showed us our room and it was tiny with an old TV that barely worked that was in the closet. He said on the phone the mattress was new and it was not. The bed creaked and moved from little movement. The bedding was wet so I told him that the bedding was wet and needed to be put in the dryer, he was upset and told me they were not and that it was wrinkle release he sprayed on them. Said he would bring a fan upstairs to dry them. Never did! He has you sign a contract stating that you will not mess with plumbing, and you will clean all water up and not splash water out of the tub or you will be charged $150! The towels were all stained up with rust and red stuff. The toilet leaked so he has a towel down to collect the water. The Jacuzzi tub was all stained and the wood around it was ruined. The room was run down and need some TLC. I wanted to leave immediately but if we did we were going to be charged any way and that is a lot of money to be wasted plus money on another place to stay. The door has an old lock on the inside but not one on the outside so you cannot lock it when you leave. You cannot walk around the b&b cause he said he was having a estate sale and all the rooms were filled with crap. The kitchen was too filled with trash and stuff that does not belong in the kitchen. The dogs go where ever they want including our room and would be under the bed sleeping till we heard them barking at the door wanting out. So when we were there we were stuck in our tiny room cause you could not go anywhere else. The man that showed up to the massage was a joke. He had no clue what he was doing and left bruises all over me! I told him to lighten up as he was hurting me. He had his shoes off and the dogs were licking his feet while he was doing the massage that was set up in our tiny room. It was the worst massage I have ever had. The massage therapist said that the dogs are always throwing up and there is always throw up all over. The innkeeper had on the same clothes the whole time of our stay. The second morning he did not even get up and make breakfast for us. And you are told you have to give him the check to out and I called him and yelled for him for 30 mins because we needed to leave and finally he comes out of one of the rooms and takes the key. I never got a receipt and asked him for one and still never got one. I hate that we wasted some much money for a horrible experience. This was by far the worst b&b we have ever stayed it. I would never recommend this place to anyone. I honestly donít know how he stays open.
Nicole Alexander

| My ratings for this property | |
| --- | --- |
| | Location |
| | Comfort |
| | Condition |
| | Cleanliness |
| | Service |
This review is the subjective opinion of an iLoveInns.com user and not of iLoveInns.com or American Historic Inns, Inc.
At A Glance
| | |
| --- | --- |
| Excellent | |
| Very Good | |
| Average | |
| Poor | |
| Terrible | |
Discussion
American Historic Inns, Inc. is not responsible for content on external web sites.
© 2020 American Historic Inns, Inc. All Rights Reserved.
ILOVEINNS and the ILOVEINNS logo are trademark of American Historic Inns, Inc.