4257 Petaluma Hill Rd
,
Santa Rosa
,
CA
95404-9796
,
USA
Innkeeper/s: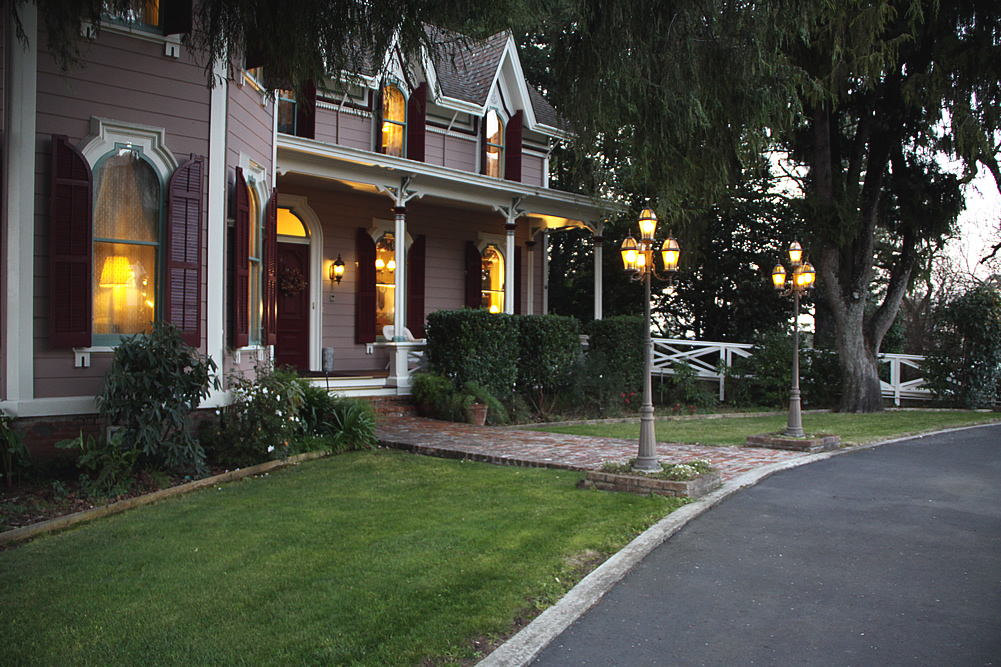 Larry Willis, Pam Willis
Description
Circa 1877. Fifteen gables accentuate this striking Gothic Revival house with a French influence. Situated on three-and-a-half acres in the center of Sonoma Wine Country, the inn has 12-foot ceilings, a winding s...
A Magical Place
My sister and I stayed at The Gables Wine Country Inn for about a week in August 2014 and it was truly a magical experience. She had never stayed in a B&B before, but I had, and innkeepers Pam and Larry Willis made us feel as if we were staying in their private home. Soon after booking our stay in March, i received an email from Pam and Larry, asking if we wanted them to book any of the experiences shown in the concierge link on their web site. After my sister had purchased her airfare and I knew she was coming for sure, I said she wanted to experience private wine tastings and wine caves, as well as Safari West. They efficiently made all the arrangements for us ahead of time, and my sister said her B. Wise private wine cave tour and tasting was one of the highlight experiences of her visit! Another was her afternoon at Safari West. And of course, her stay at The Gables. As other reviewers have said, the rooms in this Victorian Gothic Revival mansion are gorgeous, as are the common rooms such as the parlor and the dining room - both of those rooms have fireplaces, as does the Parlor Room, which we stayed in for three nights. It is at the front of the mansion, but the road noise was not an issue for us. It is the largest of the rooms and like the others, the bathroom has a claw foot tub with shower above. The outdoor areas are lovely too, and Pam and Larry had wine tastings the first two evenings we were staying there. We had a surprise at 3:20 am on August 24th while staying in the Parlor Room - the 6.1 Napa earthquake! We felt the bed moving as if on a ship, but otherwise were unaffected since we were some distance from the epicenter. We also stayed three nights in the other main floor room, the Library Room. I loved the way the sun came through the window in the bathroom in the afternoon - that window has a shade that pulls down instead of up, for more light, so it was private. As you can see from the web site, it has lovely Asian decor. The Library Room entry door is right next to the coffee/tea area, and Pam always has a lidded glass jar filled with her fresh-baked cookies of various kinds. We loved the breakfasts, of course, just as much as the lovely rooms. Both Pam and Larry are chefs, and they serve a three course breakfast each day. At 9 am, Pam calls breakfast by ringing a floor standing gong with a mallet, which I'm sure is heard in the farthest reaches of the mansion. The first course is a bread or scone or muffin baked by Pam. One morning we had lavender bread from their Lavendula garden, visible outside the dining room window, another was a maple scone, and others. One of the courses actually had a little vanilla ice cream on top. The second course is a fruit course, also by Pam, and often includes fruits from their own garden such as blackberries, raspberries, peaches, pears. One morning was a poached peach with walnuts, and another was a poached pear. I wish I could tell you all the ingredients Pam mentioned as she served each course (I should have written them down! but many of the recipes are in their cookbook). Larry prepares the third and last course each day, and Pam serves it. We had souffles in individual baking dishes on at least two occasions, an amazing individual serving of grits (which I usually don't care for) with delicious ingredients and topped with a perfectly poached egg, and on another day we had Larry-baked focaccia toast topped with Zazu pig bacon, baked tomatoes from their garden (other ingredients I don't remember) and a poached egg on top, with hot pepper threads. I am a less adventurous eater when it comes to spicy foods, but this did add a little kick. Although the food is amazing from both of these very talented people, and the rooms are lovely and no detail has been overlooked, the most important reason I will return to The Gables is Pam and Larry (and their sweet little dog Stella). They absolutely love what they do as innkeepers, and it shows in the loving way they care for their guests. I felt like family, and I know I will feel that way every single time I stay at The Gables Wine Country Inn. I'm sure my sister's review will say the same thing. They made her a portable breakfast the day she left to take the airport shuttle bus to SFO, which stops less than 4 miles from The Gables, and she told me later that day she enjoyed every bit of it! I highly recommend The Gables to anyone, nearby or far away, who is looking for the best accommodations ever, in a location that is rural but within minutes of the 101 freeway and downtown Santa Rosa.
Dale E Withers Peck
San Jose, CA

| My ratings for this property | |
| --- | --- |
| | Location |
| | Comfort |
| | Condition |
| | Cleanliness |
| | Service |
BOTTOM LINE: I would stay here again.
Did you find this review helpful?
Yes
(
0
votes)
InnSide Tip - First Floor Rooms Are Best...
...for those who have trouble climbing stairs (the Parlor Room and the Library Room).
At A Glance
| | |
| --- | --- |
| Excellent | |
| Very Good | |
| Average | |
| Poor | |
| Terrible | |
Discussion
American Historic Inns, Inc. is not responsible for content on external web sites.
© 2023 American Historic Inns, Inc. All Rights Reserved.
ILOVEINNS and the ILOVEINNS logo are trademark of American Historic Inns, Inc.