620 Ramsey Street
,
Hastings
,
MN
55033-1137
,
USA
Free Night Participating Inn
Innkeeper/s: Owner
Description
Circa 1880. Nestled in the historic district just four blocks from Downtown Hastings, Minnesota, this Queen Anne inn is listed in the National Register. Every choice made during the restoring and polishing was fu...
Get a Free Night at this inn
The dates this property will honor the certificate are Nov. 1-Sept. 30, Sunday-Friday except holidays. Valid in 177, 247, 277 rooms only.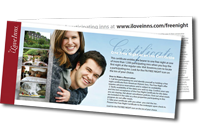 - One Night Free: This property is featured as participating in the iLoveinns.com Buy-One-Night-Get-One-Night-Free program.
Very Romantic and Charming!
We loved our stay at this fabulous bed and breakfast and hope to return again very soon. We thought the journey cake was a great way to end the experience! Everything about the stay was very enjoyable and it lived up to our expectations.
Michelle Babcock
10/24/2010
| My ratings for this property | |
| --- | --- |
| | Location |
| | Comfort |
| | Condition |
| | Cleanliness |
| | Service |
Romantic!!
We stayed here on our honeymoon and loved every minute of our stay. The cookie jar was the crowning touch. Our journeys will definitely bring us back.
Graham Byrdziak
Blaine, MN
8/12/2010
| My ratings for this property | |
| --- | --- |
| | Location |
| | Comfort |
| | Condition |
| | Cleanliness |
| | Service |
Second to None
We had a wonderful stay at this glorious B&B! The hospitality, food, and inn are second to none! We knew we wanted to go to the St. James Veranda for lunch and Vino in the Valley near Ellsworth, WI for our anniversary dinner, so we went on www.vinointhevalley.com and this B&B was the first suggestion for lodging close by. We enjoyed lunch in Red Wing and then the drive to Hastings where we had midafternoon drinks, peanuts at the Busted Nut on 2nd Street after leisurely shopping in the great shops. We were welcomed by the owner and given a brief history and tour of this lovely inn. Then we made the 30 minute drive to our dinner at the open air pavilion set in the beautiful vineyard along a winding river in WI where we enjoyed wine, live music, good Italian food, played bean bags, ladder golf and strolled along the river. We even made it back for the Classic Car Cruisin along 2nd street. After a nice night's rest, we thoroughly enjoyed eating a wonderful breakfast of popover pancakes in our room on the enclosed porch. Room service was very timely and excellent food and service. We hated to leave after just one night - can't wait to go back!
Cindy Palm
6/3/2010
| My ratings for this property | |
| --- | --- |
| | Location |
| | Comfort |
| | Condition |
| | Cleanliness |
| | Service |
Romantic, Rested, Refreshed
What more could you ask for? Rosewood Innkeepers greet you at the door and treat you as if you are the only honored guest that is staying there that night. You tour the inn and arrive at your room with a welcome sign on the door made out just for you! "Tubbies" for two, oversized copper tubs, round showers, down-filled Swedish beds, skylights, fireplaces - we've stayed in every room and enjoyed every amenity. The food (in the room or private table in dining room - your choice) is absolutely wonderful! Midnight runs to the pantry for homemade cookies, ice cream bars or a carafe of lemonade or mug of hot chocolate make it so special. You can't ask for a more beautiful place to celebrate a special occasion or to just celebrate an ordinary day and let Rosewood make it extraordinary.
Sharon Harten
Andover, MN
1/12/2010
| My ratings for this property | |
| --- | --- |
| | Location |
| | Comfort |
| | Condition |
| | Cleanliness |
| | Service |
Romantic, Cozy, Delicious & Amazing
Wow - This is the best Inn/Bed and Breakfast we have ever stayed at! There are so many small things that make Rosewood unique and charming it really is in a league of its own. From the moment you walk in the door you feel like you're somewhere special. The colors, the decorations, the people, the cookies (!!); everything is very warm and charming. My husband and I wanted to stay somewhere romantic where we could reconnect for a few days and just fall in love again. Boy did we pick the perfect place! There are so many details that we cannot possibly mention them all (plus we don't want to ruin all the surprises), but here are a few things that we really enjoyed: THE FOOD! Not only was the breakfast extremely delicious it was wonderful that you got to choose when and where you wanted to eat. The first morning we had breakfast delivered to our room and the second morning we ate at a private table for two in the dining room. The privacy at the inn was nice (we got our own keys to the house and our room). We especially enjoyed lying in the bed (or the Jacuzzi) watching the flames and shadows from the fireplace while reading to each other the personal stories and experiences of people who wrote in the journals before us (so special). Having access to the 24-hour pantry with fresh cookies (!!), ice cream, tea, coffee, juice, fruit, snacks, etc. made midnight snacks fun. The grounds around the inn were a great touch; we sat outside with tea each morning and watched the birds. The available option of dinner at the Inn was an added bonus along with the most incredible in-room, hour long couple's massage we have even had (so relaxing!) and how can we not say something about Downtown Hastings' small town charm. The area has many things to do, we did: The Winery, Carpenters Nature Center, Mississippi River Trails (Including the Lock and Dam), Afton Apple Orchards, Leduc Mansion, and Hastings Creamery. As we were checking out we received another wonderful surprise from Pam (and Dick) for our journey home. Thank you, Thank you, Thank you; we will be back again and again! We highly recommend everyone visit here at least once!
Jaclyn Loose
Sterling Heights, MI
1/7/2010
| My ratings for this property | |
| --- | --- |
| | Location |
| | Comfort |
| | Condition |
| | Cleanliness |
| | Service |
Loved it!
My husband and I were looking for a way to celebrate our 2nd anniversary. We had never stayed at a bed and breakfast inn before and didn't know what to expect. It was far better than I could have imagined! The room was fantastic. I loved the fireplace and two person whirlpool tub, very romantic. The food was excellent. Each morning after eating I was so full I wanted to go take a nap :) I would definitely stay here again. It was a perfect place to celebrate our anniversary. Needless to say, I was sad to leave and am looking forward to when we can visit again.
Angel R.
12/7/2009
| My ratings for this property | |
| --- | --- |
| | Location |
| | Comfort |
| | Condition |
| | Cleanliness |
| | Service |
What a great way to Celebrate 25 yr
Oh what a great way to celebrate 25 years together! Pam Greeted us and remembered us despite the many years since our last stay. She made thoughtful recommendations for return visit to Hastings, the local vineyard and Carpenters Nature Center, very enjoyable. Our room was spectacular, skylights, fireplace, teak wood jacuzzi, copper soaking tub, rounded shower, and comfy bed. The food both breakfasts were delivered at our requested time, and were perfect. We also enjoyed a soup and salad supper, that was filling and yummy. We love the peaceful, accommodating atmosphere Pam and Dick have created, the gal cleaning the room offered to do our laundry, O.K. she didn't mean it but how cute. We look forward to our next stay.
Moria Gallagher
10/19/2009
| My ratings for this property | |
| --- | --- |
| | Location |
| | Comfort |
| | Condition |
| | Cleanliness |
| | Service |
Simply the best!
I first started visiting Hastings seven years ago while researching some local history. Because of the nature of my trip, I thought it would be fun to stay in an old house instead of a cookie-cutter chain motel. It was one of the best ideas I've ever had. There so many things that make the Rosewood special. I can't list them all here, but I'll try to hit the high points. The breakfast is some of the best food I've had anywhere. I find myself craving it whenever I come home. The location is very convenient, but at the same time very quiet and peaceful. The rooms are all beautifully decorated and impeccably clean. Each one blends vintage elegance and contemporary convenience together in a very special way. Being a writer, I found the in-room journals - in which each room's guests write about their stays - especially charming. But of course the physical structure itself, although obviously impressive, would be nothing without the love and care the owners put into it. Some people are born to do certain things, and it is obvious that Dick and Pam were born to be innkeepers. I remember how much I enjoyed the tour Pam gave when I first stayed at Rosewood; later, I had the opportunity to tour Thorwood (their other property; now condos) with Dick. Both tours were real highlights of my time in Hastings. Their passion for history and preservation is contagious. One more thing: I'm single and I've never been to the Inn with a significant other. Before I came for the first time I was a bit worried that the whole place might be a bit too lovey-dovey for me, but those fears were totally unwarranted. The Rosewood is a perfect place for ANYONE looking for a quiet retreat. Having stayed at the Rosewood about twenty times or so over the past seven years, I'm delighted to say I'm in a position to vouch for the innkeepers' consistently stratospheric standards. Five stars all the way around.
Emily Hogstad
9/29/2009
| My ratings for this property | |
| --- | --- |
| | Location |
| | Comfort |
| | Condition |
| | Cleanliness |
| | Service |
Perfect!
I would recommend this B&B to anyone. I actually spent my time there by myself to refocus and relax and it was perfect! The Classic Rosewood is the longest running single-owner B&B in the state and it shows - they've thought of everything. From the free Wifi to the bottomless cookie jar to the lovely porches to the amazing breakfasts this was the absolute perfect vacation. I am counting the days until I can come back. Highly recommended with or without a special someone.
Magnolia Simms

| My ratings for this property | |
| --- | --- |
| | Location |
| | Comfort |
| | Condition |
| | Cleanliness |
| | Service |
Perfect Vintage Getaway!
Last week, my husband and I drove down from the Twin Cities to enjoy the fall colors and to spend the night in Hastings, MN. We were given a gift certificate to the Rosewood Inn Bed and Breakfast by a friend: what a gift! We would definitely recommend this inn to anyone: it is a perfect, wonderful, lovely stay in a beautiful, Victorian home. We loved the Vermillion Room we stayed in: a real, wood-burning fireplace (they supply the wood!), jacuzzi tub, beautiful decorations - it was perfect. We loved everything from the free ice cream in the community freezer, to the gourmet breakfast, to the town (downtown Hastings is very cute). There is a bike trail very near by that was lovely to take around to see the surroundings. Pam is a perfect hostess and both she and her husband are wonderful cooks. Breakfast was so peaceful and delicious. What a wonderful place - I highly recommend it.
meghan howard
st. paul, MN

| My ratings for this property | |
| --- | --- |
| | Location |
| | Comfort |
| | Condition |
| | Cleanliness |
| | Service |
Wonderful Inn! Wonderful Experience
When making reservations for our first stay at The Classic Rosewood Inn the Inn Keeper heard we were new to 'B & B' stays she upgraded our room! Needless to say that experience - from reservation to checkout - was of the highest standard. We couldn't wait to return and did so recently (5/12) for an anniversary get away. Though 'our room' (the Rebecca) was already reserved the St. Croix was equally as lovely. We were not disappointed; once again everything was simply wonderful! The house not only reflects an era of time gone by but the keepers of it (Pam and Dick) genuinely offer hospitality with a sincere desire to ensure their guests have a lovely stay. We now know why the breakfasts are of noteworthy legend! AMAZING! Guests have full access to the 'always available' ice cream and homemade cookies - which are worth every calorie!! At checkout I mentioned I had lost a ring, 'somewhere in Hastings'. A note was made of it with a promise to notify the staff to be on the lookout for it. What a surprise when an email AND phone call came: my ring was found!! And the 'double icing' on my joy was the insistence that return cost (and insurance if I would like added) would be covered. We cannot say enough good things about the Rosewood - and the wonderful service we've received during our visits. For any considering a stay in Hastings you will be rewarded above and beyond at The Classic Rosewood Inn.
Monti Ahrens
Maple Grove, MN

| My ratings for this property | |
| --- | --- |
| | Location |
| | Comfort |
| | Condition |
| | Cleanliness |
| | Service |
Great B&B - Just perfect!
The Classic Rosewood provided my wife and I a super get-away and exposure to a fantastic, recently renovated 1800's mansion. The home just beautiful. Pam and Dick present the experience just like you would hope - they know how to make it special, including 'small' things and attention to detail. We stayed for the first time in 2011 and are already have reservations for this fall. Excellent, top-tier B&B.
Jahn Stopperan
Lakeville, MN

| My ratings for this property | |
| --- | --- |
| | Location |
| | Comfort |
| | Condition |
| | Cleanliness |
| | Service |
Best Visit in 5 Months of Travel
We spent a beautiful fall week at the historic Rosewood Inn in Hastings MN. Pam greeted us at the front door and gave us a tour of her beautiful home. We stayed in the Rebecca room which was extremely comfortable with antique furniture, fireplace, double whirlpool bath, and ice cream/cookies from the kitchen. It's close to the Twin Cities with lots of attractions and easy to visit friends and relatives. We enjoyed most of our time walking a few blocks downtown to several friendly restaurants, visiting the parks on the river, and biking on good trails. Each morning, Dick started our day with a fabulous breakfast. We chose the time to eat every morning and enjoyed sitting in each of the historic dining rooms. Our retirement travels have taken us to many beautiful places, but we plan on returning to the Rosewood Inn again this spring.
Steve Johnson

| My ratings for this property | |
| --- | --- |
| | Location |
| | Comfort |
| | Condition |
| | Cleanliness |
| | Service |
Lovely Inn for a romantic getaway
My husband and I loved our stay at the romantic Classic Rosewood Inn. It is a short walk from downtown Hastings MN, a delightful town filled with historic houses on the banks of the Mississippi just downriver from where the wild and scenic St. Croix River flows in. The Inn is a 3-story 1800's mansion on the historic register. It features 12 foot ceilings, large common rooms, a well-stocked library including a variety of board games, and a pantry stocked with self-serve organic ice cream, cookies and beverages. The decor is classic Great House Victorian style, but not pretentious or fussy, a place where guys can feel at home. The Inn has been lovingly renovated and maintained with a unique, quirky, down-to-earth charm; each room is one-of-a-kind. It was clean, comfortable, private and quiet. Highly recommended. We were warmly greeted by Pam who, with 30 years of experience, guided us through the Inn regaling us with its history and information on nearby places of interest before helping us carry our luggage up to The Cove, our third floor attic suite featuring slanted ceilings, skylight and split-level floor plan. You enter the sitting area furnished with a table, chairs and a sofa. A couple steps up is an alcove bedroom with a very comfortable Queen bed, fireplace, double whirlpool bath and a shower stall. The separate "loo" is stocked with natural soaps and lotion, the bathroom tissue rolled into roses! The Cove is spacious yet cozy. When I had my typical midnight insomnia I appreciated being able to relax on the couch in the sitting room, playing a DVD on my laptop, while my husband slept uninterrupted in the bedroom. Great Wi-fi reception also. Before turning in we enjoyed the convenience of putting in our order specifying where and when we wanted breakfast and whether we had any dietary restrictions. In the morning we were seated by a bay window at one of the dining nooks which dot the periphery of the great rooms. There was a newspaper and a pot of the coffee waiting for us. Pam's husband, Dick, cooked and served our fabulous breakfast. First course was a baked grapefruit garnished with apple slices. My husband said it put his Swedish grandmother to shame. Main course was a blueberry pancake turnover with maple syrup. I had wonderful maple-smoked bacon whereas my husband, who doesn't eat meat, was served a dish of mango and plums. The food was delicious, the presentation beautiful. I believe all the food they serve is organic, which we highly value. I also appreciate that the Thorsens run a "Green Inn", use sustainable practices such as non-toxic cleaning products and have re-cycling containers on each floor. One of the things that most impressed me about our stay were our hosts, Pam and Dick. They are generous, conscious, caring people; concern for their guests, their town, their inn and the environment are genuine. As we were leaving they gave us a farewell gift, a "Journeycake" to be opened when we returned safely home. We definitely look forward to staying at the Classic Rosewood Inn next time we visit Hastings.
Mary McNellis
Stillwater, MN

| My ratings for this property | |
| --- | --- |
| | Location |
| | Comfort |
| | Condition |
| | Cleanliness |
| | Service |
Wonderful Sister Getaway
My sister and I were looking for a quiet getaway to do some leisurely antiquing, nature walks, and just learn more about the history of the Mississippi River towns in MN. We chose the Classic Rosewood Bed & Breakfast in Hastings mostly for location and price since we were only needing a one night stay. After a night at a different B & B to the north, the night before, which was a little disappointing, we were eager to do some exploring in Hastings.We are thoroughly impressed and will return again; likely with our other sisters in tow, next time. The Inn is a beautiful, well kept, late 1800's mansion, located a short walk from Historic Downtown Hastings, walking trails along the waterways and very near many beautiful parks. We chose the Vermillion Falls Park for a quick walk after dinner- beautiful! Pam is a wonderful Innkeeper and insisted we have an 'Orientation' of the Rosewood which included a fascinating history of the home, it's original owners and how she and her husband, Dick, got started and recreated this beautiful Inn; as well as, history of Hastings and the surrounding area. We were given a tour of the Inn which has very rich and comfortable furnishings with decor that gives it a presentation of 'warm and welcoming'. Our room was nestled in the back of the inn on the second floor with a back staircase right outside the door (making a late night sneak down to the pantry area and raiding the cookie jar, very convenient). The Isabel Room has a King-size bed and a cute four season sunny porch with a daybed perfect for reading, watching the birds or sipping a glass of wine (all of which we did). Truly impressive was the breakfast. Being vegan and accustomed to settling for just fruit or just oatmeal (if I'm lucky) at most places I visit, I was very surprised and thankful for the fresh organic fruit to start, vegan pancakes very lightly dusted with powdered sugar and sprinkled with fresh organic blueberries and a delicious black bean and corn salad flavored with cilantro and lime. Breakfast is served wherever you want it and we chose the outdoor porch overlooking the Rose Garden. Dick and "Kitchen Angel", Barb, were wonderful servers and hosts for breakfast and we felt very catered to. Sent off with a special farewell and parting gift of a "Journey Cake" ( I have the Journey Cake Ho storybook and used to read it to my son frequently when he was a little guy), it was like leaving a family gathering.There are so many places to visit and things to do nearby, we decided we need to plan another trip. Thanks so much for a great overnight stay, it felt like home and we look forward to returning again in the near future! Dayne & Diane K
D E Kurtzer

| My ratings for this property | |
| --- | --- |
| | Location |
| | Comfort |
| | Condition |
| | Cleanliness |
| | Service |
What a Gift!!
I run a Non-Profit that serves the Hastings area. Pam and Dick generously offered us the use of their Inn for our quarterly off-site retreat. The beauty of the home combined with the warm hospitality made our time both rejuvenating and very productive. Thank you, Thank you, Thank you. What a perfect place to get away!! - See more at: http://www.iloveinns.com/rosewood-inn-id14025.html#reviews
Andy Langenfeld

| My ratings for this property | |
| --- | --- |
| | Location |
| | Comfort |
| | Condition |
| | Cleanliness |
| | Service |
At A Glance
Excellent

Very Good

Average

Poor

Terrible

Other Ratings: "3 AAA Diamonds, ""4 Mobil Stars, "iLoveInns Guests
Publicity and Press Reviews
Minneapolis-St. Paul Magazine, Minnesota Monthly, Midwest Living, Glamour, National Geographic Traveler, Jason Davis Show, Channel 5, Channel 11, public television, several local cable shows, KSTP Talk Radio, MPR (Minnesota Public Radio), Hometown Boy Makes Good (HBO movie).
Discussion
American Historic Inns, Inc. is not responsible for content on external web sites.
© 2000 - 2016 American Historic Inns, Inc. All Rights Reserved.
ILOVEINNS and the ILOVEINNS logo are trademark of American Historic Inns, Inc.