41 Elm St
,
Camden
,
ME
04843-1910
,
USA
Free Night Participating Inn
Innkeeper/s: Meghan Small
Description
Circa 1835. This historic home was transformed into a Victorian at the turn-of-the-century with the addition of large bay windows and a mansard roof. The inn is located in the heart of the village of Camden and i...
Get a Free Night at this inn
The dates this property will honor the certificate are November-May, Sunday-Thursday, excluding holidays & weekends. Subject to availability.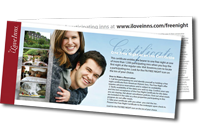 - One Night Free: This property is featured as participating in the iLoveinns.com Buy-One-Night-Get-One-Night-Free program.
Our Anniversary Getaway
The staff is very pleasant and helpful. The food and service were impeccable. We stayed in the Hideaway. The ambiance of our room was different then what my husband and I remember booking online and wasn't as romantic as expected. It was still very comfortable. We were also surprised that the shower was in the sitting room. We agreed that we would try the inn instead if we were ever in the area again.
Rather Not Say Anonymous
10/13/2010
| My ratings for this property | |
| --- | --- |
| | Location |
| | Comfort |
| | Condition |
| | Cleanliness |
| | Service |
Best Stay on NE Trip!!!
My wife and I have stayed at a lot of B&B's and this one is tops! The reservations were accommodating and easy to do! The room was perfect and nicely decorated, the house is beautiful! The food and drinks are fantastic and no wonder so many awards have been achieved. The staff is superb and the owners; Michael and Mary Jo take great pride in their inn (it shows)!!! The area and town is loaded with things to do and see. We are already looking to stay here again!!!!
Eric Sandberg
Glendale, CA
6/6/2010
| My ratings for this property | |
| --- | --- |
| | Location |
| | Comfort |
| | Condition |
| | Cleanliness |
| | Service |
Romanced by the Hartstone
My husband surprised me with a weekend trip to Camden for our 10th anniversary, and although we are frequent B&B-goers, this may have been our most romantic B&B experience yet. The two-level garden suite was lovely, and the "upstairs/downstairs" configuration was truly comfortable. We loved the little gardens, the wonderful details of the room (earplugs, botanical soaps and shampoos, a bed with down-everything, bathrobes, a wonderful chenile throw, even a gas woodstove!), and -- most importantly -- our two breakfasts and one dinner. Absolutely amazing food in a gorgeous environment. Mary Jo was the perfect host (as was her assistant, who greeted us our first night). Dinner is an integral part of the Hartstone Inn, and not to be missed. One more thought for the Camden-traveler: we also dined at Primo restaurant in Rockport, which (for nights when you're not dining at the Hartstone) was also an incredible dining experience that we highly recommend!
Paula Cole
1/19/2010
| My ratings for this property | |
| --- | --- |
| | Location |
| | Comfort |
| | Condition |
| | Cleanliness |
| | Service |
Romance and More
My wife and I had the pleasure of staying in Camden at the very romantic Hartstone Inn in October. Upon our arrival we were wowed by the looks of the Victorian building. When we went in we were welcomed by a wonderful staff who were attentive to our every need. They shook our hands and introduced themselves. Upon reviewing our reservation they asked about our food allergies (My wife is a vegitarian) and assured us we would be taken care of at dinner. After the introductions we were given a tour of the beautifully decorated Inn, including the parlor which had fresh baked cookies and tea waiting for us and we were invited to join the Innkeepers for "cocktail hour" (which is a cant miss event). We were staying at the newly aquired Hideaway portion of the Inn wich is a few footsteps away. The Innkeeper showed us how to get to the Hideaway and even met us there so she could give us a tour of that building as well! The Hideaway is just a beautiful as the Hartstone itself! It also had fresh cookies waiting along with a Massage room and it own dining room for breakfast which was included in our rate (such a deal!) We were shown to our room "The Sunflower Suite" which was on the third floor. The room was gorgeous. When the Innkeeper showed us the room she even asked if she could get our bags for us so we could begin to relax immediately! Dinner was amazing. It was a five course fixed menu and the price was a deal! $45 per person. You cant find that kind of price for this type of dinner anywhere! I felt like I was in a New York 5 star restaurant! The dinner can not be missed and we felt like we were on a romantic date! Breakfast the next morning was so good, Two courses. The staff was very attentive and asked if they could help us plan our day....maps in hand to draw out a walk or show us the area attractions. We hated to leave! If you find yourself in Camden, Maine, the Hartstone inn is a must!!!
Margo Long
1/17/2010
| My ratings for this property | |
| --- | --- |
| | Location |
| | Comfort |
| | Condition |
| | Cleanliness |
| | Service |
Romantic Place to Get Engaged - Thrilled With Every Morsel
We loved the Hartstone Inn & Hideaway. We stayed in the Sunflower Room in the Hideaway building and were very impressed. It was elegant, spacious, private, comfortable and most importantly, very romantic. My now fiancé proposed on the trip and the Inn was the perfect place to celebrate our brand new engagement and spend a luxurious romantic weekend together. I am a major foodie and was thrilled with every morsel we ate at the inn. The breakfast, included with our stay, was delicious and included, to name just a few items, fresh berries, cumin rubbed bacon, an incredible breakfast sandwich, fresh waffles, scones and warm almond muffins. The attention to detail was wonderful, they even cracked our soufflés and poured the crème anglaise for us at the end of their amazing prix fix dinner! The staff, including owners Chef Michael and Mary Jo, were attentive and helpful. We couldn't have asked for a better experience and highly recommend the Hartstone Inn & Hideaway.
Oliver Bella
1/17/2010
| My ratings for this property | |
| --- | --- |
| | Location |
| | Comfort |
| | Condition |
| | Cleanliness |
| | Service |
Romantic Getaway
The most relaxing and romantic trip we have had since we got married 4 years ago. The Innkeepers, Michael and Mary Jo go out of their way to make you feel welcomed and do everything possible to make your stay a memorable one. Michael is a gourmet chef and we went on what they call a "Gourmet getaway weekend" which includes a one night 5 course gourmet dinner that can only be described as Incredible!!! The stay also comes with gourmet breakfast every morning you stay there and they too are fantastic. While at breakfast, Mary Jo visits each and every table asking if you need any help and/or recommendations on the days agenda in and around Camden. There is lots of shopping, walking or hiking, many places to eat or sit out on a deck or patio that looks out over Camden harbor which is an incredible sight itself and many things to do. There are some of Maines wineries you can visit and do wine tastings, we visited 3 within 15 miles of Camden. The people are just so friendly and accomodating. There are many choices of rooms, none the same as the other, that have different themes, but one thing that is common in all rooms is that they are luxurios, warm and inviting, clean and neat and in our opinion, have not been matched by anywhere else we have ever stayed. The Inn, the Innkeepers and Camden Maine and the surrounding area left us thinking about when we will return again as we said goodbye. It really is about the InnKeepers and they just seem to make everything better than you could imagine. Mary Jo and Michael are incredible people and we can not thank them enough for making our stay a very memorable one. If you go once, you will most definately go back again. Overall rating for this trip is Excellent!!!
Morgan Dean
1/17/2010
| My ratings for this property | |
| --- | --- |
| | Location |
| | Comfort |
| | Condition |
| | Cleanliness |
| | Service |
A romantic experience, unparallel!
However, it was the most delightful experience to date. Beginning with its convenient location in downtown Camden, the Inn is within walking distance to the shops as well as the harbor, most opportune for that post dinner romantic walk . . . necessary for the extraordinary dinner prepared and served by the owners. The rooms are, as would be expected for an inn of this quality, simply striking. Beautifully adorned with paintings from local artisans, each room has its own wonderful ambiance. On a practical level, all of the expected accoutrements are present, ranging from soft robes, TV, DVD players, to even a Jacuzzi. All one might need or want can be found in the room all of which provide for a comfortable stay and a romantic setting. The true spectacle of the stay is the dining. Chef Michael Salmon's artistry in the kitchen is truly realized in his several course dinners. Each course is truly a culinary delight and could stand alone on its individual merits. Together, they provide the palate with a unique experience comprised of different flavors, and aromas, fit for the proverbial king. It is this dining experience which places Hartstone in its stand alone position atop of the B & B's in the area, or any area for that matter. It also necessitates that post-meal walk. Breakfast was equally extraordinary and strayed far from the standard menu one might find in a typical B & B. As in the case of the previous night's dinner, Chef Salmon's personal touch added to the meal. For those searching that romantic getaway, one needs not to look any farther than the Hartstone Inn and Hideaway. The experience will be memorable and long lasting.
John DiSavere
1/17/2010
| My ratings for this property | |
| --- | --- |
| | Location |
| | Comfort |
| | Condition |
| | Cleanliness |
| | Service |
Magical and Romantic!
A much needed romantic night away was an absolutely magical experience at the Hartsone Inn in Camden, Maine. We stayed in the Arbor Suite and it lived up to its impressive images on the website. It was light, sunny and oh so romantic complete with beautiful works of art, lovely gas fireplace, and a tub for two. But the magic didn't end there. As self-described "foodies" we're always looking for a mind blowing gastronomic experience as well. The dinner and wine left us speechless. It was followed the next morning by an equally elegant and satisfying breakfast. Our hosts Mary Jo and Michael really treated us as though we were guests in their home. If you're visiting Maine for the first time or even if you live here as we do, The Hartstone must be experienced. It's a romantic place that is worth returning to time and time again!
Marsha Cross
1/11/2010
| My ratings for this property | |
| --- | --- |
| | Location |
| | Comfort |
| | Condition |
| | Cleanliness |
| | Service |
Hartstone Romance
The romance can't be matched at the Hartstone Inn. We only live about an housr away but for my husband and I, it is our favorite place to go for some romantic "mom and dad" time! The staff is attentive and warm but not intrusive. They are knowledgeable and can help you plan your day with fun things to do in the area. The rooms are warm and inviting but not overdone. Crisp sheets, fluffy towels, spa quality bathroom pruducts and lush robes really add to the romance! Outdoors, the gardens are beautiful from the spring through the summer. We often go in the spring and the hundreds of tulips that surround the building make it so inviting! The food is to die for. Chef Michael it known far and wide and for a reason. The breakfasts there will make you breakfasts at home never look the same! You don't have to sit with a group either. There are many tables for two and we like this as it continues our romantic time alone together. We do not get this often at home with 3 small children. We would recommend the Harstone in as a wonderful romantic destination in mid-coast Maine!
Mark Scott
1/10/2010
| My ratings for this property | |
| --- | --- |
| | Location |
| | Comfort |
| | Condition |
| | Cleanliness |
| | Service |
Romance Can't be Matched
What an experience-full of romance! We consider ourselves pretty well traveled and have frequented many inns but have to say that Hartstone Inn ranks as one of our all time favorite romantic spots. We had read about it originally in Travel & Leisure magazine and had the opportunity to stay at the Inn 2 years ago and most recently, last summer. This last time, we stayed in one of their suites, the Cottage Suite, and had our own private garden of wildflowers and the bed and linens were to die for. It's the Salmon's attention to detail and quality that brought us back and will keep us returning. We especially enjoy Michael's meals, always inventive and delicious. He changes the menu daily based on what the area offers and his culinary passion comes through in everything he does.....and Mary Jo is the consummate hostess. Together, they provide an romanctic experience beyond any other. You'll love it!!!!!!!!!
Marci Frost
1/10/2010
| My ratings for this property | |
| --- | --- |
| | Location |
| | Comfort |
| | Condition |
| | Cleanliness |
| | Service |
Romantic Honeymoon
This is one of the finest and most romantic inns that I have visited. My husband and I stayed here for two nights during our honeymoon and absolutely adored the inn. The hosts are lovely people. I like innkeepers who engage you in conversation, rather than those who tape a key to the door for you (seems to be the standard innkeeper behavior in California these days, where we lived for 4 years. Can you tell this is a pet peeve of mine??). The staff new we were on our honeymoon and put Champagne and a card in the room for when we arrived. It was romantic extra touch! We stayed in the Cottage Suite, which I highly recommend (very cozy and romantic with a fireplace and jacuzzi). It had a sweet little courtyard to itself. The real reason I am writing this review is because I must mention the food at this inn. It is absolutely spectacular. Michael Salmon is an accomplished chef, and we adored the food here. The meals are delicious and creative (without being "wacky"). I cannot recall eating better food at an inn, and we have stayed in many different inns over the years. The inn recently offered a Gourmet Getaway package, which included one several course dinner along with a two-night stay. This is a terrific deal and well worth the money. I will never forget the gingerbread souffle at the Hartstone. It was an unbelievably delicious dessert. It was ultra romantic. We couldn't have asked for more. Afternoon cookies were delicious too!!
Sarah Shane
1/10/2010
| My ratings for this property | |
| --- | --- |
| | Location |
| | Comfort |
| | Condition |
| | Cleanliness |
| | Service |
Romantic Escape
I usually don't take the time to write reviews on my travels but my romantic stay at the Hartstone was so one that I had to share! First off, my husband had ordered some off the inn's spectacular inn room extras so I arrived to find fresh cut flowers & Champagne with tuxedo dipped strawberries in my room. The fireplace was burning and classical music was playing too. After the busy few months I'd had at home it was like a breath of fresh air. All I wanted to do was relax and be romanced and this was the place. The fluffy spa robes combined with the beds that have 4" of memory foam on them make relaxing a must! We did socialize and explore some also. We enjoyed cocktail hour, savouring the inn's delicious drink specials by the fire. We met many interesting people. We saw a couple get engaged at dinner. The Chef brought the ring out with dessert on a silver platter. He lifted the cover off and she saw the ring - the whole room was cheering! It couldn't have been more romantic. Dinner is something you want to make reservations for. It is romance for your taste buds! In all, if you are in coastal Maine in need of romance, the Hartstone Inn is the place for you!
Mia Patten
1/8/2010
| My ratings for this property | |
| --- | --- |
| | Location |
| | Comfort |
| | Condition |
| | Cleanliness |
| | Service |
Christmas Romance
My husband and I had the most romantic stay at the Hartstone Inn this past Christmas. First of all, they decorate indoors and out from top to bottom! It was magical and created the perfect backdrop for romance! We stayed in the Sunflower Suite and it was the romantic room I had hoped for. We had the whole 3rd floor! The suite is so spacious and we enjoyed the two-person Jacuzzi tub! We had the fireplace running while we snuggled on the leather couch in our living room. Fireplace's aren't common in the south so we took full advantage of it! One late afternoon, as the snow was falling outside we had a plate of delcious imported cheeses, sausage and crackers delivered to our room along with a bottle of wine. We picked a DVD we had been wanting to see from their DVD libary and spent the afternoon having a picninc on our fluffy king bed. We ski'd at the Snow Bowl, dined in the restaurant and shopped at the cute local stores. (The food at the inn is to die for by the way.) The staff was so friendly and accommodating that end the end of our stay, they seemed like old friends! My husband and I really reconnected! We found romance in a way we had forgotten about. I can't recommend the Hartstone Inn enough.
Katrina Newcomb
1/8/2010
| My ratings for this property | |
| --- | --- |
| | Location |
| | Comfort |
| | Condition |
| | Cleanliness |
| | Service |
Cooking Up Romance
After 40 years of marriage - we still enjoy a romantic getaway together! The Hartstone Inn made our anniversary extra special. Every detail is attended too and it is so clean! That is important to me! We wanted to do something unique to celebrate so we scheduled a Chef for the Day class. We spent 4 hours in the Hartstone kitchen with Chef Michael preparing all the courses of that evenings meal in the restaurant. We scheduled it far enough in advance that we helped design the menu with our favorite dishes. My husband and I learned and laughed and really enjoyed the time together. We both love to cook so working together with a famous Chef couldn't have been more romantic! We then enjoyed our romantic dinner for two that night watching all the other guests say how delicous the food was! The food we prepared! It was truly a romantic cullinary getaway!
Emily Crowley
1/8/2010
| My ratings for this property | |
| --- | --- |
| | Location |
| | Comfort |
| | Condition |
| | Cleanliness |
| | Service |
The most romantic Inn in Maine
My husband and I had the pleasure of staying at the Hartstone Inn in December. We both had time off from work and decided to have a little get away. When we arrived we were welcomed by the wonderful staff and they gave us a tour of the Inn and showed us to our room. The "Arbor Suite". it was a wonderful room complete with a Jacuzzi and Fireplace. Very Spacious, nice lighting and our own private entrance. We had a very romantic dinner at the Inn that night. Chef Micheals five course dinner is to die for!!! We will be back year after year!!!
Cathy Herard
1/8/2010
| My ratings for this property | |
| --- | --- |
| | Location |
| | Comfort |
| | Condition |
| | Cleanliness |
| | Service |
Romantic Second Honeymoon
My husband and I recently stayed at the Hartstone Inn for an impromptu getaway. We had no expectations except nice weekend, good food, historic B & B home. Well, my husband turned the weekend into a romantic second honeymoon by surprising me with champagne & strawberries on arrival, a romantic couples massage at the Inn's spa and a Romantic Dinner for two featuring the Inn's renown gourmet five course feast!! Thanks Hartstone Inn and Thanks to you too Honey! :-)
MiMi Wright
1/7/2010
| My ratings for this property | |
| --- | --- |
| | Location |
| | Comfort |
| | Condition |
| | Cleanliness |
| | Service |
Romance Right Around the Corner
My husband and I have travelled the world and stayed at many special places. However, I can honestly say that none of them equal the wonderfully romantic time we spent at the Hartstone Inn on New Year's Eve. My husband and I are frequent diners at the Inn and also take Michael's cooking classes. We have always been extremely impressed by the warm hospitality and exquisite attention to detail exhibited by Michael, Mary Jo and their entire staff. The service is elegantly understated and the superb food equal to any five star restaurant we have experienced. However, because we live less than a mile and a half from the Hartstone Inn we had never spent the night. However, this New Year's Eve, with a major storm approaching, we decided to splurge and kick the New Year off in style by enjoying dinner and an overnight stay at tne Inn. Our suite, the Rose Hip, is located in The Hideaway, which is just a short romantic walk in the snow to the main Inn. The suite was exquisitely decorated and the jacuzzi, soft, cuddly robes and wonderful bathroom amenenities added to the romance of the evening. The linens were luxurious and the towels thick and oversized which added to the overall experience. The dinner was absolutely phenomenal and truly was a wonderful way to begin the New Year. We were able to sleep late the next morning as the Inn is so quiet and then enjoy a wonderful breakfast. The warm hospitality of the morning staff added to the experience. We are so thrilled by our wonderful evening at the Hartstone Inn that we can't wait to return for another overnight experience. We have learned that you don't have to travel far to "escape" and thanks to the Michael, Mary Jo and the entire staff, we were able to discover romance right around the corner.
Mary Rabaioli
Camden, ME
1/7/2010
| My ratings for this property | |
| --- | --- |
| | Location |
| | Comfort |
| | Condition |
| | Cleanliness |
| | Service |
Romantic weekend at The Hartstone!
My wife and I wanted a romantic weekend away. After getting sitters lined up we drove to the hartstone Inn in Camden, Maine. My wife called ahead and ordered chocolate covered strawberries and champagne for the room upon or arrival to start us off right. We stayed in the Sunflower Suite. VERY romantic setting...we enjoyed the fireplace from our jacuzzi and sipped champagne before heading off for a romantic five course dinner which was utterly amazing. If its romance and recharging you need, The Hartstone Inn is the place to be!
Paul Herard
1/6/2010
| My ratings for this property | |
| --- | --- |
| | Location |
| | Comfort |
| | Condition |
| | Cleanliness |
| | Service |
A Romantic Seaside Getaway
My husband and I stayed at the Hartstone Inn this summer and are already planning our return trip next year! We were celebrating our 1st anniversary and were looking for a romantic getaway. The Hartstone Inn was more that romantic - it was truly special. We ate dinner their both evenings. Dinner was a five-course menu that was different each day. The tables were elegantly appointed with crystal and silver and were candlelit. The Chef brought out a plate of chocolates after dinner the first night that said "Happy Anniversary" in chocolate around the rim of the plate. It was very romantic. We relaxed in the 2-person Jacuzzi tub in our room after dinner and enjoyed a bottle of champagne! What more could we have asked for! After breakfast we would walk to the ocean and stroll the beach looking for treasures. We truly can't say enough about how much we enjoyed our romantic getaway. We told all our friends!
Martha Patten
1/6/2010
| My ratings for this property | |
| --- | --- |
| | Location |
| | Comfort |
| | Condition |
| | Cleanliness |
| | Service |
Romantic Every Time We Go
If you are looking for a romantic getaway, this is place to go! Beautiful rooms with fireplaces, Jacuzzi tubs, luxury robes and so much more! We have stayed at the Hartstone Inn every year for the past 5 years and still find it to be every bit as romantic as the first time. Be sure to get a massage in the spa. They even do couples massage. Also, in the summer and fall enjoy cocktails in the garden in the early evening. They are located in the heart of the village so we often stroll through town together poking our heads in to the local shops. The staff go above and beyond at the Hartstone Inn. Romance is a guarantee!
Jeff Mosher
1/6/2010
| My ratings for this property | |
| --- | --- |
| | Location |
| | Comfort |
| | Condition |
| | Cleanliness |
| | Service |
Real Winter Romance
What is better than spending a romantic night in a warm, cozy room when it is cold and snowy outside? My boyfriend and I came all the way from Europe to experience New England in Winter. We stayed at many inns during the 10-day trip, and the Hartstone Inn was far the best of all. We checked into the Arbor Suite at 3 pm and didn`t get out the room till next morning. As we stepped into the hidden suite which had a private entrance in the snow-covered garden, we felt like we were in heaven. We tried the homemade chocolate-covered strawberries and the ice-cold champagne while sitting on the comfortable sofa near the fireplace, watching a romantic movie - borrowed from their DVD library. Later we enjoyed the cold champagne in the huge hot Jacuzzi tub also. The room was spacious, clean and smelled like Lavender. We fell asleep while we were watching the stars above our heads in the skylights and felt like we were sleeping on clouds. It was hard to get out the comfortable bed the next morning, but it was worth. Breakfast was exceptional. Being European, neither of us are huge fans of American breakfast, but Michael makes magic. We had a candlelit breakfast on a private romantic table in the parlor by the fireplace, which was 2 courses: fresh fruit and yogurt followed by granola and apple crunched French toast with whipped cream and fresh banana topping. The freshly squeezed and mixed juice was yummy too! The staff is excellent; you can tell their biggest goal is to make you happy, no matter what it takes. We will definitely be back to the Hartstone Inn in Camden.
Agnes Kovacs
Budapest,
1/6/2010
| My ratings for this property | |
| --- | --- |
| | Location |
| | Comfort |
| | Condition |
| | Cleanliness |
| | Service |
A Wonderful Getaway
I stayed at the Hartstone Inn this winter and thought it was fabulous. It was located in the village so restaurants, shopping and the ocean were in walking distance. My room was beautifully decorated but not overdone. The luxurious bed provided quite possibly the best night sleep I have ever had! The staff was attentive, friendly and helpful in planning activities for us to do on a wintery weekend. The best part of the stay though was the food. Breakfast was out of this world and be sure you reserve a table for dinner. It is not to be missed!
Adam Mosher
4/7/2009
| My ratings for this property | |
| --- | --- |
| | Location |
| | Comfort |
| | Condition |
| | Cleanliness |
| | Service |
Fabulous Food
Great innkeepers, fabulous food, breakfast and the option for a 5 course supper in the dining room. All beautifully prepared and presented, on china, by candlelight. And of course the easy walking access to all Camden has to offer. All seasons offer unique opportunities, although my personal favorite is summertime in Camden!
MJ
7/3/2008
| My ratings for this property | |
| --- | --- |
Beautiful Accomodations
This is a beautiful inn that is well-suited for Camden. The inn is in a perfect location to really experience Camden. We stayed in the Hideaway and it was just perfect. The bed was wonderful and the bathroom was amazing. The breakfast was okay.
Sarah
6/11/2008
| My ratings for this property | |
| --- | --- |
At A Glance
Excellent

Very Good

Average

Poor

Terrible

Other Ratings: "4 AAA Diamonds, "iLoveInns Guests
Publicity and Press Reviews
Gourmet, Discerning Traveler, Shape Magazine, Boston Globe, Rachael Ray, New England Travel, Yankee, Down East, Boston Travel Magazine, Travel & Leisure, Food & Wine, Maine Explorers Guide, Fodors, Maine 207, PBS.
Discussion
American Historic Inns, Inc. is not responsible for content on external web sites.
© 2022 American Historic Inns, Inc. All Rights Reserved.
ILOVEINNS and the ILOVEINNS logo are trademark of American Historic Inns, Inc.