We received this review today from a guest who recently stayed at the Queen Victoria Inn - we thought it rather articulate for a meatloaf kind of guy and hope that others might enjoy his venture into one-of-a-kind lodging and find the courage to try the untried.



I'm the kind of guy who would rather eat meatloaf and mashed potatoes at home than beef wellington and fois gras at a fancy restaurant, the sort who prefers a night in the recliner watching TV to an evening of theater or ballet. I'm a basic guy who doesn't need anything fancy to be happy.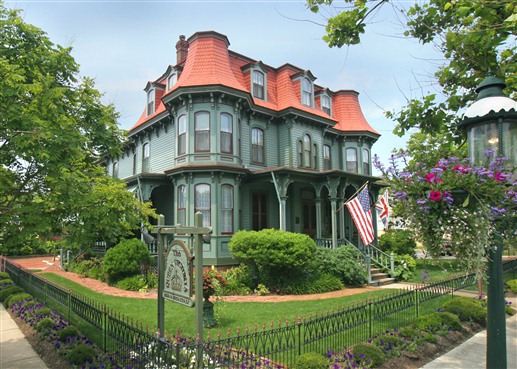 I never imagined myself as someone who would enjoy the quaint, communal atmosphere of a B&B and the thought of sharing an old home with strangers didn't exactly thrill me... then I visited the Queen Victoria.
To say they exceeded my expectations would be a gross understatement and as it turns out, even a basic guy like me enjoys being pampered every once in awhile. I was hesitant when we checked in and I walked through the building, but at the same time, I was impressed at how beautifully restored it was. Our room was on the third floor and I loved that I could see the ocean from my window. It was a pleasant surprise. The private bathroom was bigger than our bedroom at home.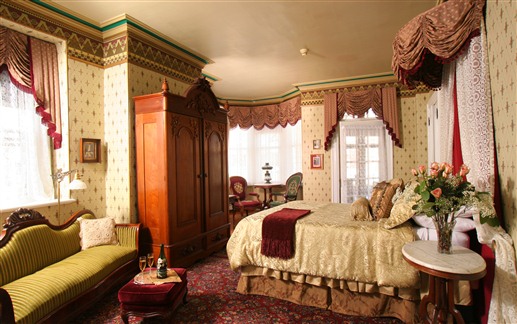 After checking in, my wife and I headed down to their afternoon tea time and I expected to be amongs a bunch of old people (my wife and I are in our 30s) sipping tea and eating crumpets.I didn't even know what crumpets were and I wasn't anxious to find out. We walked into the dining room and I was shocked to see the food setup with all the different choices from sweet to savory and relieved by the many different drinks besides tea (I had a Coke). I was equally surprised to see couples our age and one that was even younger, mixed in with all the other guests.
That was the point when I began to realize my feelings about B&Bs were off-base. My wife and I ate so many tea time snacks that we weren't hungry for dinner and there was a lot of conversation with other couples. That was another surprise. I expected it to be awkward and quiet with people stumbling to find things to talk about. Instead, the conversation flowed freely and between the other visitors and the B&B owners who mingled with us, there was never a quiet moment. It felt like we were old friends, if that makes sense. There was a sort of congenial, quaint atmosphere that reminded me of past holiday celebrations with my family.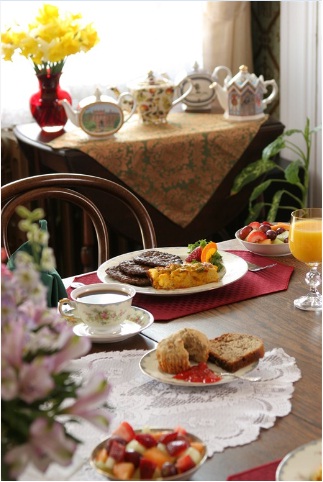 Tea time the following day was equally as relaxing and though there was another buffet of food offered, it was completely different from the first day. The breakfasts were informal and featured two buffets filled with all kinds of great food from an assortment of homemade baked goods, high-end breads and imported English Muffins (with homemade strawberry jam) to gourmet souffles, stuffed french toast and breakfast meats to go with them. There were three different kinds of juice, an entire tray of different teas and great coffee, which made my morning.
There was not one thing about my stay at the Queen Victoria that I did not enjoy and the little extras like the nightly turn-down service with chocolate coins on the pillows were greatly appreciated. Our bathroom had a two-person shower with water coming at me from all directions and it felt like showering in a waterfall.
Like I said in the beginning, I never expected to be the sort to enjoy a B&B, but then I visited the Queen Victoria. I have since been persuaded to visit other inns with my wife and most were nice, but none compared to the Queen Victoria experience. Somehow, the people at the Queen Victoria make you feel like both a member of the family and a VIP guest at the same time. However they do it, I hope they never change a thing.