2014-2015 Booklovers B & B Writers' Retreat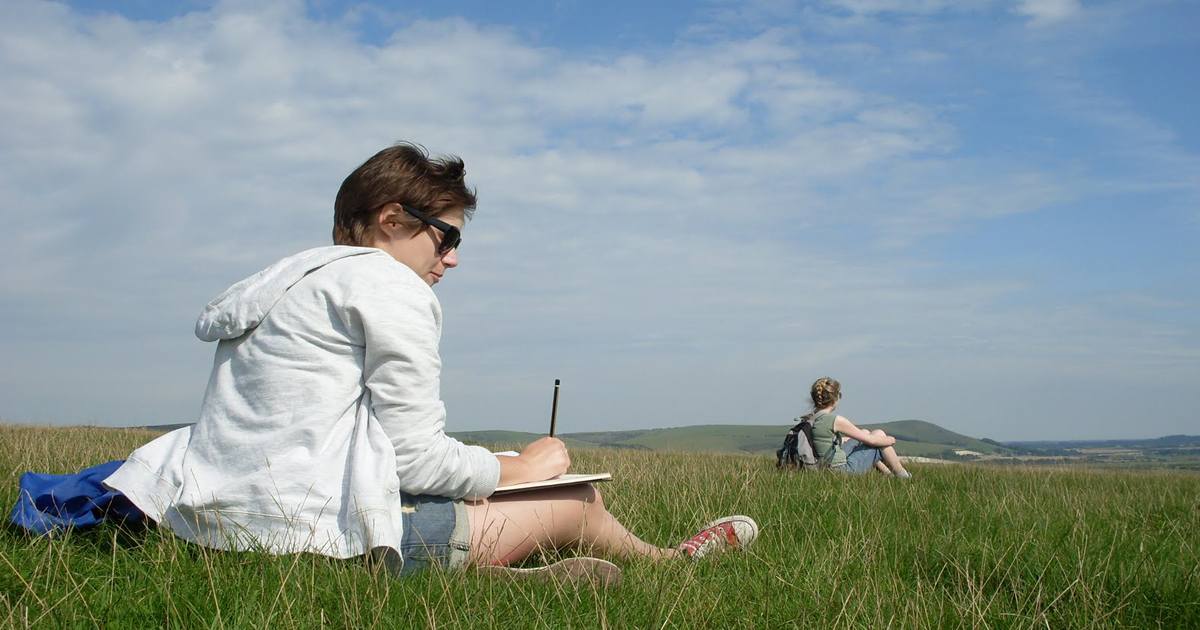 Writing and Reading at Bed & Breakfasts – Try Alexander House Booklovers B&B on Maryland's Eastern Shore
Inns have long been a perfect place to write and some historic inns hosted famous writers such as Somerset Maugham (Vineyard Square Hotel, Colonial Inn), J.D. Salinger (Lazy Cloud Lodge B&B) and Jack London (Vichy Hot Springs Resort & Inn).
Lately, we've been making book recommendations to inn travelers – matching the book to the location – so, for example if you are going to stay at an Alabama inn we might remind you to re-read To Kill a Mockingbird or if traveling to Tucson, The Bean Trees: A Novel by Barbara Kingsolver. In this case below, we are recommending inns for writers.
Now you can Get Your Writer On and be inspired at this Eastern Shore literary inn.  The Alexander House Booklovers B & B. If Maryland is too far away, review the schedule below and see if an inn in your neck of the woods would find a facilitator and host such an event. It won't be the same, but you'll still be inspired by the getaway if you choose a peaceful, caring place like The Alexander House.
Eastern Shore Writers' Retreat
So what happens at this writer's retreat?  Writers discuss their work over breakfast and lunch, and in the evening. They receive feedback, suggestions, ideas and inspiration. In between discussions, they spend the morning and afternoon writing, while silence is observed by all throughout the inn.
Writers are able to avoid all the home distractions, and are inspired to write by the literary ambiance throughout the inn (photos, portraits and quotes of famous authors; rooms named after authors and designed to appear from their time and place). They get inspirations and suggestions from other writers during the discussions over meals and in the evening.
Participants have remarked that they get many times over more writing accomplished than they would at home, receiving great tips from other writers, while enjoying a relaxing getaway and wonderful meals.  Some choose to write in the Mark Twain Parlor and Library with a comforting fireplace, or in the bright and colorful Cafe Collette, or in their own rooms for those staying overnight.  Most bring laptops, with which they can check their email or go online for research using the free Wi-Fi around the inn.
Aspiring writers find the impetus to get started and often discover hidden talents. Holly H. a recent attendee, is a retired nurse and realtor from Annapolis. She had never written creatively before and thought it might be fun.  After the weekend of writing and discussing her work with more seasoned writers, including two participants who taught creative writing, she found herself with the beginning of a novel that received raves from the others.
Winter 

2014-2015

 Writer's Retreats
November 7-9
November 21-23
December 12-14
January  2-4
January 16-18
January 30-Feb. 1
February  6-8
February 20-22
Friday
3:00-6:00 pm: Afternoon check-in.
7:00-8:00 pm: Friday evening wine and cheese reception.
Saturday
8:30-9:30 am: Group breakfast and discussion of writers' current project.
10 am-12:30 pm: Silence observed throughout the inn for writing.
12:30-1:30 pm:  Hot Lunch served in Café Collette (Healthy and Vegetarian)
1:45-5:45 pm:  Silence observed throughout the inn for writing, including verandah.
6 pm: Dinner on own at various local restaurants (not included but coupons available)
8-9:30 pm:  Facilitated group discussion of writing process, with emphasis on offering suggestions, support and guidance to fellow writers.
Sunday
8:30-9:30 am: Group breakfast and discussion of writers' current project.
10 am-12:30 pm: Silence observed throughout the inn for writing.
12:30-1:30 pm:  Hot Lunch served in Café Collette (Healthy and Vegetarian)
1:45-3:45pm:  Silence observed throughout the inn for writing.
4:30: Checkout.
---
Retreat package Includes: 2-night stay, 2 full cooked breakfasts, two hot lunches, wine and cheese reception, afternoon tea, coffee and pastry, evening liquers and teas, your choice of one free book from our gift shop.   Free WIFI.
Rates: $275. One person in a room; $450 for two people in a room.
Call 443-880-6858 to reserve.
"I'm so glad I decided to do this, it has opened up a new avenue in my life, I found I really enjoyed creating this new world for myself."
Innkeeper Elizabeth Alexander is herself a retired English and creative writing teacher who continues her own writing at the inn.  She wanted to create a space for other writers to find support and inspiration, and to escape from all the daily distractions that often stop one from writing.  She participates in the discussions and uses the energy from the retreat to do some of her own writing as well.
If you don't live near the Eastern Shore
Hundreds of quiet inns around the country would be ideal for your own writers retreat. Find a beautiful natural setting, invite a teacher or a couple friends or ask the innkeeper what kind of resources she might identify in her area.
The Alexander House Booklovers' B & B celebrates books and writers, and was featured on the NBC Today Show, in The Washington Post, Baltimore Magazine, Budget Travel, Maryland Life and Chesapeake Life Magazines.  It's a literary-themed Victorian Inn nestled in the Princess Anne Historic District, featuring dramatic colors and whimsical details that create a feel-good, relaxed atmosphere.