3 Tips to Vastly Improve Your Bed & Breakfast Website and 1 Big New Reason Why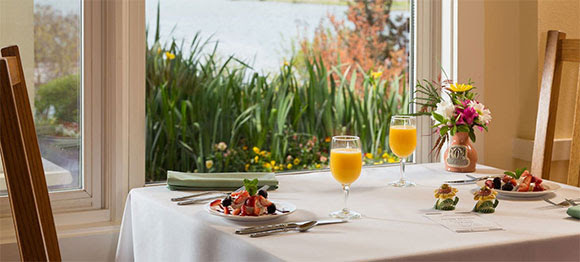 Lookout Point Lakeside Inn, Hotsprings, AR
Your Bed & Breakfast Inn Website is the Number 1
Influencer for Travel Decisions
Hotel Marketing last week reported new findings from a Travel Website Behavior Study that may change the way you think about your website.
Your website is THE MOST important item of influence for travelers deciding on where to stay. Website Behavior Study by Fuel and Flip. Here are their findings:
What Influences Travelers in 2017
Websites – Now number 1
Word of Mouth
Online Travel Agencies
Search engines
Review sites
So if you have the best reviews in town and a traveler goes to your site and is not inspired, excited, or engaged, you might easily lose that booking.
Other Study Findings
Photos – Professional and Guest Photos
79% of the travelers said photos taken by guests influenced their decisions! (87% said photos in general affected their choice.) Basically photos do most of the convincing so optimize them.
29.8 Minutes Were Spent
On average, guests spent 29.8 minutes on the inn's website before and during booking.
You Now Need Click to Call
The study surprised many by finding that 76% of travel bookers want to be able to call the property if they have a question during the booking process. The recommendation is to make sure they can finish their reservation over the phone if needed. This could be the difference between getting the booking or losing a customer to another property.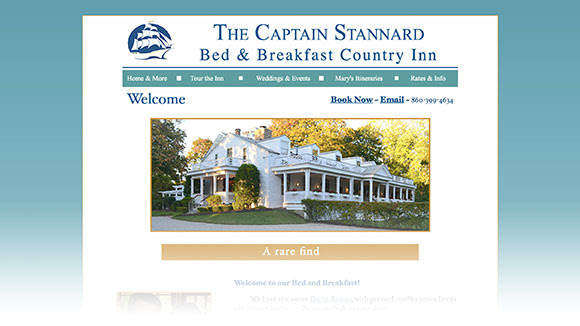 Captain Stannard House Website Lasts 14 Years
Fab Photography, White Space Help
Captain Stannard House offers a simple design that has held up well over its 14 years. The innkeeper has made their own updates and changes from time to time.
Why This 14-Year Old Site Still Works
First – they did a good job on photography. Absolutely awesome for that time. Advances in HDR photography would make their images even I more pay). The photos tell a good story and this photo investment has held them together. The well-curated color creates a nice warmth
Concise and lots of white space – They didn't get too wordy but used short magazine, snippet style paragraphs allowing for generous white space which makes it easier to absorb.
A nicely flowing top to bottom feel to it, simple for the eye to navigate. You are not confused by unruly design and different column widths.
What Would Work Better In a New WebSite for Captain Stannard
Fix mobile. They are using an external mobile site which as of this year loses the SEO benefit. One reason is because it's a re-direct from another domain.
Fix coding. Today's advances in coding helps SEO and makes for fast loading time.
Fix title tags – Enhance title tags and keywords
Get on Google's 3-Pak – There are only 2 inns in Westbrook on it
Hundreds of enhancements have taken place since this site was originally built so the inn is not getting the full benefit of these which could vastly improve traffic to the site. Captain Stannard shows up on a Google natural search for Westbrook CT bed and breakfast as number 1 today and when you see the room photos they are larger than other inns' photos. However, the inn doesn't show on the Google 3-Pak.
Their Competitors – all have older looking websites
http://www.westbrookinn.com/ – dated colors, dark
http://angelswatch.com – photos not compelling, good content
http://www.bushnellhouse.com/  bad title tags

Give Your Inn a New 2017 Website – 3 Tips That Will Improve Your Website
Looking at our team's website checklist the other day, I reviewed items to be created, re-directed, re-sized, compressed and coded, title tagged, and a hundred other items. But there are 3 main things that will greatly affect your business.
A Fast Loading Mobile-Friendly Website – Speed and smart phone friendly is now extremely important with Google using it in their ranking algorithms.
Title Tags That Get You Found – Good – "Cape Cod – Red Gables Inn, romantic Barnstable bed and breakfast inn". Not good, "Red Gables Inn". Knowledgeable travel site developers understand the power of these.
Fabulous Photos – If you don't have good photos now, take them yourself or buy stock photos of your area's scenery, wildlife and recipes or get them from your tourism bureau.
Our Mission with Websites is to remove technology road blocks that hold back some of America's best innkeepers. Start Here