AirBNB Loses Big and Gains Big, Inn Photos You Can't Forget, Inn For Sale Contest Illegal?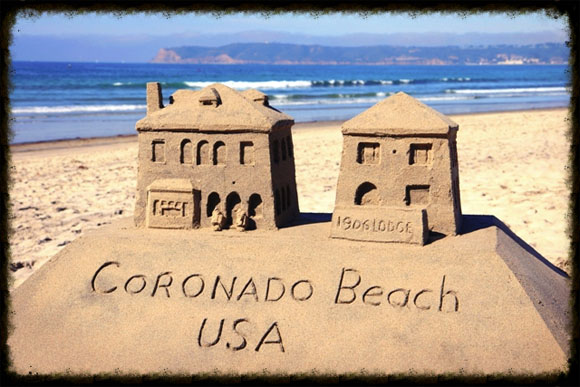 An Image that Stays in the Brain – (People Remember 80% of What They See – Not Read)

1906 Lodge on Coronado Island (San Diego area) hit it big with this photo. Can't get it out of my mind and it reminds me of the Washington State innkeepers who moved a bed onto the sand, made it up and were photographed sitting on it for their innkeeper photo. Visual content like this is key to communicating your brand and drawing the attention and interest of consumers. Studies show that people remember 20 percent of what they read but about 80 percent of what they see and do. So if you've got sand do something cool with it. If it's not sand – can you carry your inn sign to the rose garden, outdoor breakfast, Victorian veranda or something wonderful nearby? Brainstorm with staff or visitors to create your own eye candy!
Buy Custom Newsletters With Great Eye Candy
Of course you need to send out the eye candy so 80% of your guests will remember your inn. And if you send an email newsletter the results are 40 x anything you put on Facebook! See our sample newlsetters. Remember – the iLoveinns team can do all of it for you!
Call Diane for a "new deal" on hand made, one-of-a-kind newsletters for your inn.
949-481-7276 or Dringler@iloveinns.com
P.S. From innkeeper Todd Allen,
"iloveinns.com e-newsletters are very professional and extremely effective in nurturing guest relationships and stimulating increased bookings and gift certificates sales for the Bed & Breakfast Association of Kentucky."
AirBNB Keeps Losing Battles to City Councils, Attorneys General But Doubled in Value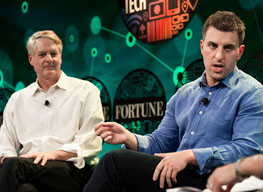 When it last raised money in 2014, AirBNB was valued at $10 billion, and now this year the valuation has doubled, surprising in a year in which Airbnb has been losing battles to attorneys general, city councils, and state houses. At the same time, though, by its own numbers it has more than doubled the number of listings on its site, and it has a name recognition other seven-year old companies would kill for. Continue Reading…
Who Won the Maine Inn?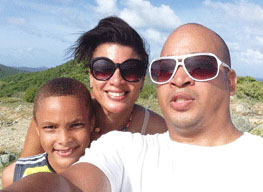 I told you so! Restaurant experience …
The winning opening line was "Twelve years ago, we embarked on the journey of painstakingly converting a dilapidated building into a charming guesthouse and restaurant." Rose Adams and husband Prince are both from Brooklyn and have been running an inn & restaurant in U.S. Virgin Islands. She graduated from the New York Restaurant School in New York City, and headed up the catering program for Gourmet Garage, with clients such as the Guggenheim Museum, National Public Radio (NPR), and the Rockefellers to mention a few. Prince Adams "has a diverse background which includes finance, marketing and hospitality management." Continue Reading…
JUST IN:  Cops Looking in to Whether Maine B&B Essay Contest Was Above Board.
Here's Our How to Win the Inn Advice Column Given in April.
JUST IN:  6-Room Wyoming Inn Offers Essay Contest to give away her inn.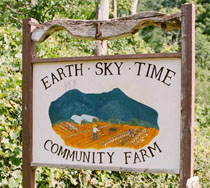 Start or Join a Farm Night – Wilburton Inn
Find a Farmer
If you cant grow your own farmer like the Wilburton Inn's family did, find someone local who will put on a one of a kind and very local farm-to-table-feast for your guests. My mother's version of farm-to-table is still vivid – all summer she would set the pot on, dash out to the garden and pick 6 corn cobs, shuck it, (she claimed to shuck it on the way from the back garden to the kitchen but I don't remember seeing that), then she'd pop it in the boiling kettle for 3 minutes while slicing tomatoes, and starting hamburger patties. It was served under our willow tree. Hundreds of times, all summer long, this was our menu when we were growing up in Ohio. It can be simple, but a beautiful way to celebrate summer with guests.
Here's what the Wilburton Inn offers:
Join us every Wednesday evening for a lively night of farm to table organic food, hearth baked breads, artisan cocktails, and local music. We are excited to once again partner with Earth Sky Time Community Farm, local distillers, and the best Vermont musicians, and to welcome the broader community to the best event of the summer. Each week we craft a unique menu, pairing the best local vegetables and fruits with international flair. June-September
Build a 98 Things to Do List (Get Someone Else to Do the Work) – Lehman House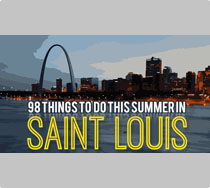 In this case, the CBS TV affiliate compiled the "98 Things to Do in Saint Louis This Summer" list. (They also keep a Fall, Chrismas, and Spring 98 List) Click to Read Lehman House used the headline, a couple highlights of the list and linked to it in their June newsletter to former guests.
Ask a college class in communications, your Visitor's Bureau, an Intern at your inn, your mother or staff to comb local resources to build out your list. There will be something for all your lively guests – learners, doers, thinkers, athletes, music fans and foodies.