America's Best Inns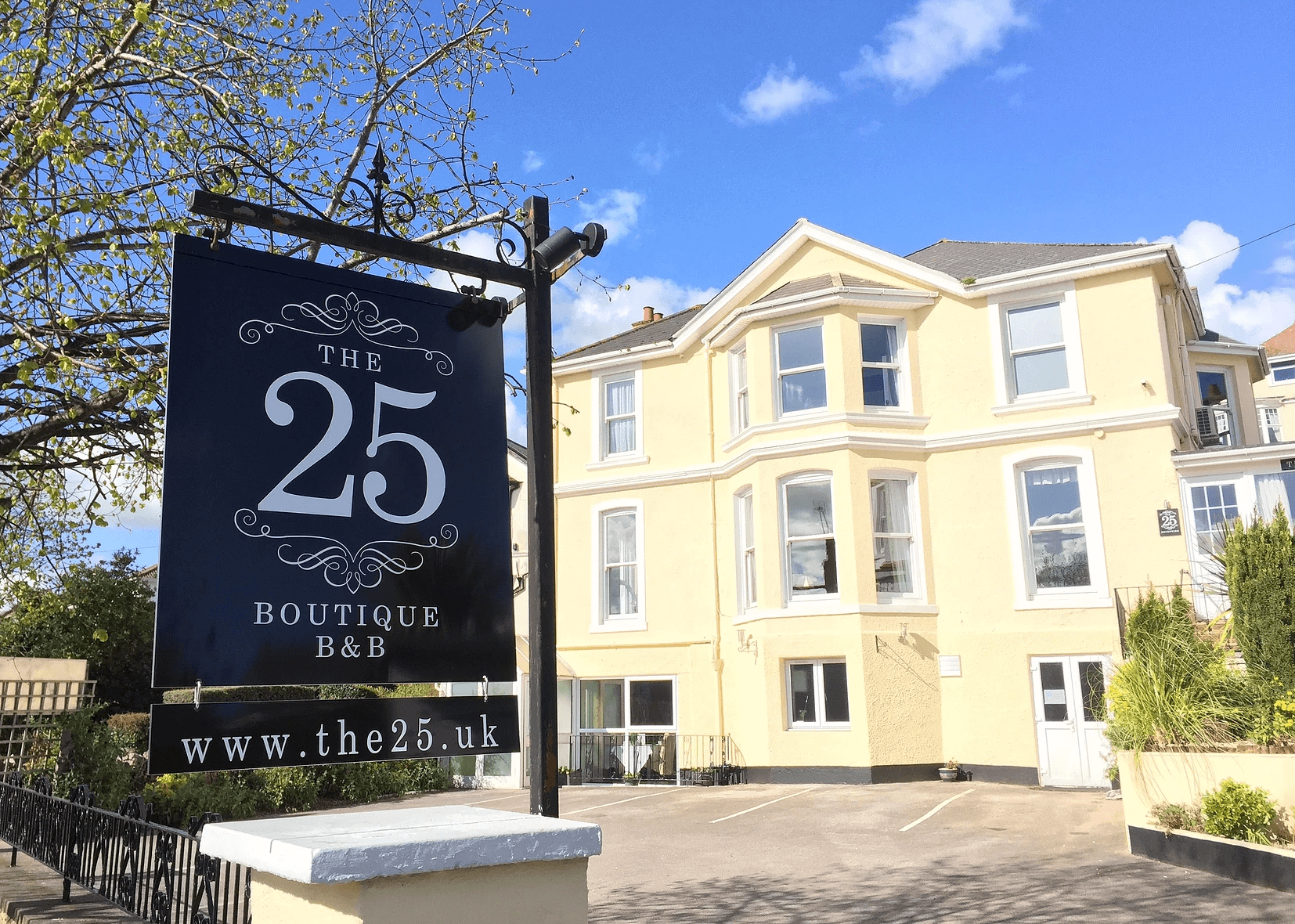 The 25, Devon, UK
A boutique B&B in Torquay has taken the Trip
Advisor 2019 award "Best B&B"
Trip Advisor selected The 25 as "Best B&B in the World". It has 6 rooms, (I might debate this inn as best having seen plenty of excellent world-class B&Bs in the U.S. with similar ratings and for a longer time). And really Torquey wasn't nearly as pretty as hundreds of USA towns. (I visited it one recent fall.) However, I studied their reviews to find out why TA chose this inn.  Here are the best inns according to iLove Inns – The Best Romantic Inns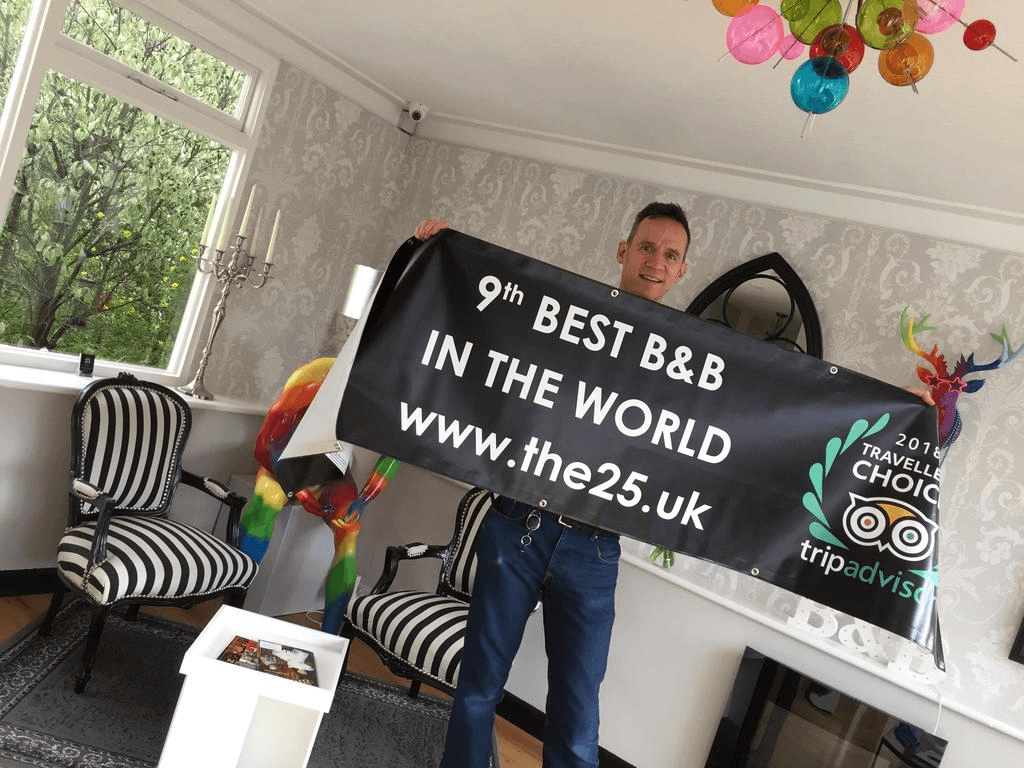 The 25, Devon – This was last year
Find the Surprise in the Reviews
for Best B&B
We scanned their individual reviews to discover why they made #1.
Something unexpected in the room every evening – (homemade cakes, cookies, "a whole host of yummies")
Being able to tell Alexa to put mood lights on and play music
Ipads and Netflix
A TV in the shower
Huge bathroom, king beds
Birthday present left on the bed
So clean my finger came back cleaner when I tested for dust
A very thoughtful bag of goodies for the journey home. gave us a 'journey home lunch' of homemade biscuits, crisps, and water.
When we arrived early they invited us in, checked us into the room and offered a complimentary drink and homemade Brownies in the Drawing Room.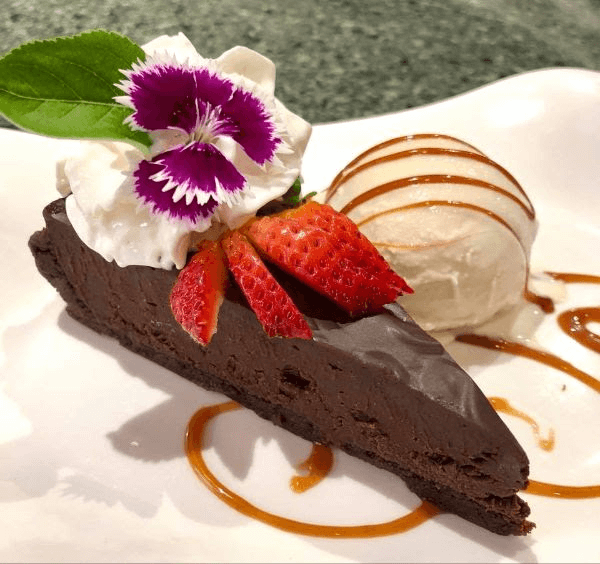 Hartstone Inn, Camden Inn   Valentine Recipe
Chocolate Ganache Tart
Chef Michael Salmon
" Hartstone Inn: Signature Recipes from an Elegant Maine Inn"
1 batch brownies (use your favorite brownie recipe)
1 pound dark (sweetened) chocolate, finely grated
1½ cups heavy cream
2 ounces Bailey's Irish Cream
1 ounce Grand Marnier
1 Tablespoon unsalted butter
1 teaspoon vanilla extract
Chocolate ice cream
Chocolate sauce
Caramel-rum sauce (recipe follows)
Prepare the brownies and cool slightly. Lightly butter a 9-inch tart pan with a removable bottom. Remove two-thirds of the brownies from the pan (the remaining third can be eaten as brownies) and press into the tart mold, evenly distributing it on the bottom and 1 inch up the sides.
Bring to a simmer 1 inch of water in a medium-sized saucepan. Combine the dark chocolate, heavy cream, Bailey's, Grand Marnier, butter and vanilla extract in a medium-sized mixing bowl, and place the bowl over the simmering water. Stir occasionally, until the chocolate melts and the mixture becomes smooth
Pour the ganache into the brownie shell and chill for 2 hours or until it is firmly set up. Put the chocolate sauce and caramel-rum sauce in separate squirt bottles.
To serve, remove the tart from the refrigerator and using either a torch or the open flame from a gas range, warm the sides slightly to release the tart. Using a long thin knife dipped in hot water, cleaned and dried between slices, slice the tart into 12 wedges. On a plate, set a wedge of the tart and scoop of chocolate ice cream on the side. Squirt chocolate sauce and caramel-rum sauce over the tart, ice cream, and plate. Sprinkle with chopped nuts if desired and serve immediately.
Caramel-Rum Sauce
2 cups brown sugar, firmly packed
1 cup unsalted butter
½ cup dark rum
1 cup heavy cream
2 teaspoons vanilla extract
Bring all ingredients, except vanilla, to a boil in a small saucepan, stirring occasionally. Reduce the heat to low and simmer the sauce for 15 minutes over low heat. Stir in the vanilla and keep warm until serving.