Bed and Breakfast Innkeeper Doesn't Cancel Expedia's Bad Credit Card Reservations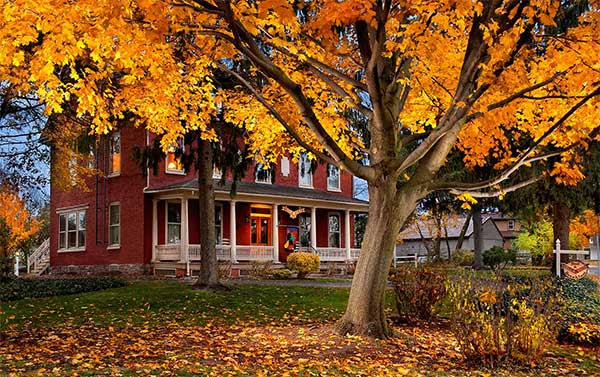 What We Heard This Week:
Innkeeper Doesn't Cancel Expedia's Reservations with
Incorrect Credit Cards
An innkeeper shared anonymously this week. "I've learned over the years, that often Expedia will send me reservations and then notices that I can cancel them because the credit card is invalid.
"I stopped canceling those reservations."
"When the guest arrives I tell them that Expedia said their credit card was no good BUT I could cancel their reservation with them and try running it. They always say yes and they virtually all go thru. Expedia either has some glitch in their system OR they aren't spending the time to double check the credit card for input errors."
"In five years, I've never lost a reservation and I've been able to "legally" cancel the reservation with Expedia because they told me to and I haven't had to pay that 18% commission. It is a small victory for the innkeeper but a big one to my bottom line." Anonymous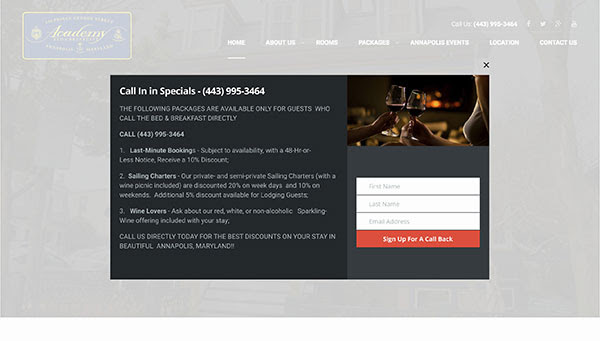 Academy B&B's Unusual Problem-Solving Pop-Up
Check out the Pop Up on this website: (the block on the right of the photo above)
It's the white and red are easy to see
It's about helping guests not to go elsewhere
Once a guest fills it in they are confident you will get back to them
The guest can check it off their list
The innkeeper prevents losing calls
Pop-Ups You Might Want Designed For Your Website
FIRST – The Giant Pop-Up!! The Francis Malbone is Offering a Giant Fall Special So they designed a Giant Pop UP
In fact, it's the largest pop up I've seen on a website.
SECOND – Another powerful use of a Pop Up that can secure your future is to capture emails of potential guests. Some emails could be worth hundreds of dollars in future reservations.
THIRD – Make a Big Response Device or make a big form. (Forget about those little tiny sentences at the bottom of your site. Make it big and inviting.) Take a look at the one at the bottom of Canyon Villa Inn and another Contact Form as examples – you can make them even more inviting. 2 pop-ups here but you have to scroll and wait a minute for the second one.
Look Up Your Website On the 6 Most Popular Browsers
These are the browsers your guests are using to search for your inn:
Google Chrome (59.69%)
Safari (13.85%)
UC Browser (7.03%)
Firefox (5.02%)
Opera (3.35%)
Internet Explorer (3.01%)
Look up your website and check to make sure there's no surprise such as "Not Secure" right in front of your URL
In July, Google marked websites that don't have HTTPS as "Not Secure". It's almost like the Scarlet Letter!
But this one you can fix and fix fast. If there is a "Not Secure", get your hosting service to fix this ASAP. People won't trust your website.
If you need help with this our tech team can usually get rid of the Not Secure within 24 hours! (contact DSakach@iloveinns.com)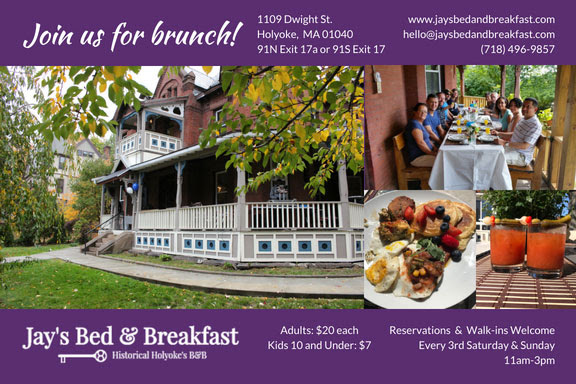 Should You Invite the Town for Bunch Once in Awhile? – This Inn Does
There could be many benefits to opening up your breakfast service once in awhile. Not only would it motivate former guests from nearby to reconnect, but once towns folks come in, they will know your inn, feel comfortable there and start recommending you for all kinds of events and overnight stays. Here's a resulting review for Jay's.
"We love Jay's Bed and Breakfast in historic downtown Holyoke MA. The B&B is beautifully appointed and every third weekend of the month they have a spectacular brunch. We drive up from CT to enjoy the brunch and music in a relaxing atmosphere outside on the patio. Jay and his staff work hard to ensure that everyone is always comfortable and happy. Bravo Jay!"

Cinnamon Pumpkin Pancakes
2 cups all-purpose flour
2 Tbsp. brown sugar
1 Tbsp. baking powder
1 tsp. salt
1 tsp. ground cinnamon
1/4 tsp. ground nutmeg
1/4 tsp. ground ginger
1 3/4 cups milk
1/2 c. pumpkin puree, fresh or canned
1 large egg
2 Tbsp. vegetable oil
1 1/2 cups maple syrup warmed
Mix flour, sugar, baking powder, salt, & spices.
In a small bowl combine milk, pumpkin, egg, and oil.