Four Inns Forecast Fun on the Long Beach Peninsula All Year Long
By Shirley Anitra Swagerty
There is no off-season for fun on the Long Beach Peninsula in Washington. ILoveInns.com found many popular activities and attractions that prove year-long fun is in the forecast at these four bed and breakfast inns on the Long Beach Peninsula.
Depending on your point of view, one season may be better than another. Thankfully, these four inns forecast fun on the Long Beach Peninsula 365 days of the year. Whatever your preference, there is an activity or attraction that will entice you to visit, make you wish you  could stay longer and definitely bring you back for more of the Long Beach Peninsula in Washington.
The Shelburne Inn, Seaview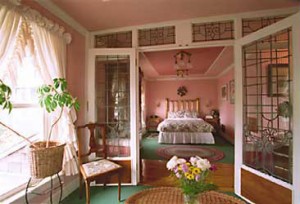 A ten-minute walk from the ocean, The Shelburne Inn, Restaurant and Pub graces Seaview on the Long Beach Peninsula, a 28-mile stretch of seacoast that includes bird sanctuaries, lighthouses, historic centers and national parks. Ten years ago owner/innkeeper Laurie Anderson created the idea of a community-wide Wild Mushroom Celebration that has, well, mushroomed and become a popular annual event. Timed with the peak harvest of autumn's bounty, chefs, innkeepers and gourmands share their passion for the Peninsula's prolific natural products during gatherings that include tastings, cooking classes, discussions and winemaker dinners.
Long Beach Peninsula boasts the longest consecutively running Loyalty Day celebration in the nation. Reaffirming allegiance to America, celebrations are scheduled over a two-day period that is always held the first weekend in May. Events include a Children's Parade, Annual Blessing of the Fleet, Fire Truck Rides, and the very popular Loyalty Day Parade.
The Longest Beach Classic Cribbage Tournament with doubles and singles play, is sanctioned by the American Cribbage Congress. This three-day contest is held in November with time to relax and explore the area before, during and after the cribbage games.
China Beach Retreat, Ilwaco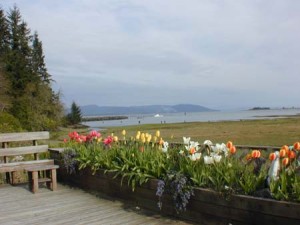 Secluded in a cove between Cape Disappointment State Park and the Port of Ilwaco, China Beach Retreat is a waterfront haven. Sweeping vistas of Baker's Bay and the Oregon Coastal Range are seen from this all-season getaway. This December, a holiday series of Afternoon Teas will be held on weekends. Indulge in traditional sweet and savory foods and sip quality teas served from a Russian Samovar.
Gift-giving is easy with the perfect holiday presents available at the Saturday Christmas Market held mid November through December at the Port of Ilwaco. Four of the many must-see holiday events are the Lighted Boat Parade, World's Tallest Crab Pot Christmas Tree, Fireworks over the Ocean and the Bed & Breakfast Holiday Home Tour.
Boreas Bed and Breakfast Inn, Long Beach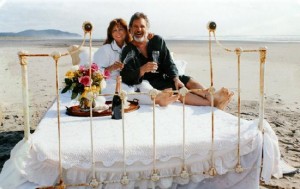 The picturesque Pacific Northwest is the spectacular backdrop for Boreas Bed and Breakfast Inn, an award-winning oceanfront boutique B&B inn. Razor-clam digs are popular local activities regularly scheduled during specific low tides. Clamming enthusiasts may have a preferred particular season, but this favorite pastime is enjoyed throughout the year. Savor a daily three-course brunch created with the land and sea's local bounty, skillfully prepared by innkeepers Susie Goldsmith and Bill Verner.
Pacific Gray whales pass by the Peninsula twice a year during their round-trip migration and breeding in winter and spring. Whale watching is best viewed by the Lewis and Clark Interpretive Center and North Head Lighthouse near Benson Beach. The many seabirds, pelicans, eagles, terns and gulls make this area one of the most popular birdwatching spots in the West. Cape Disappointment Lighthouse is a hike from the Interpretive Center around Dead Man's Cove, with a great view of the mouth of the Columbia and the jetties. People come from around the world to see these two lighthouses.
For those who want a green getaway, the Grass Roots Garbage Gang organizes three annual Beach Cleanup Days in winter, spring and fall with free chowder provided. Everyone is welcome to beautify the beach.
Enchanted Cottages, Seaview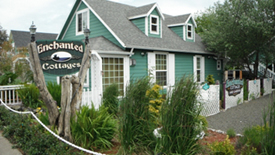 Long Beach Peninsula, on Washington's southwestern-most coast, is surrounded by the Pacific Ocean, Columbia River and Willapia Bay. Enchanted Cottages feature themed cottages that provide the stress-free comforts of home, including fully equipped kitchens and Heavenly Beds. The World Kite Museum is a must-see stop on every itinerary. Experience the many incredibly interesting and interactive exhibits. Each year the Asian New Year is honored with two days of activities and exhibits. A much-loved annual event is the Kite Festival as well as the intriguing Indoor Windless Kite Festival which is obviously not restricted by seasonal constraints.
Typically held the Saturday after Mother's Day, enter the Annual Surf Perch Derby at the Bolstad Beach Approach. Individuals as well as three-person teams can join the fun. The day starts with the famous Kiwanis breakfast. Competition then begins with afternoon weigh in and the celebration includes raffles and prizes.
Don't miss the opportunity to hike on the Lewis and Clark Trail for a truly amazing experience. Each November, the Ocian in View Cultural Weekend highlights when the Lewis and Clark Corps of Discovery reached their destination. Bus and walking tours, speakers, book signings and a Chinook tribal seafood dinner are scheduled.
Yes, fun is definitely in the forecast all year long on the Long Beach Peninsula. Considered by many to be one of America's favorite beach towns, there is no shortage of activities and attractions with small museums, three state parks, foodies' favorite restaurants, a national park and wildlife refuge, two historic lighthouses, cranberry bogs, oyster farms, blueberry picking and mushroom foraging. While staying at a bed and breakfast inn you can search for shipwrecks, take a guided horseback ride on the beach, play golf…the list is endless!