InnTouch – Breakfast Survey Results! Inns Share Their Re-Open Plans for Breakfast
Survey Results – Innkeepers' New Plans for Managing Breakfast
Last week, April 20-24, innkeepers took the I Love Inns Breakfast Plan Survey.
Almost all innkeepers have organized a new way of doing things in their individual inns.
Less than 1% plan to serve a buffet breakfast. A hand-full of inns were still operating – mostly serving health care workers and they offered pick up your breakfast or breakfast to go.
We thought it most helpful to use take-out quotes from the survey so you can see how innkeepers are thinking and decide if something might work for you.
PS. Photos below are not from survey takers. (Survey was anonymous.)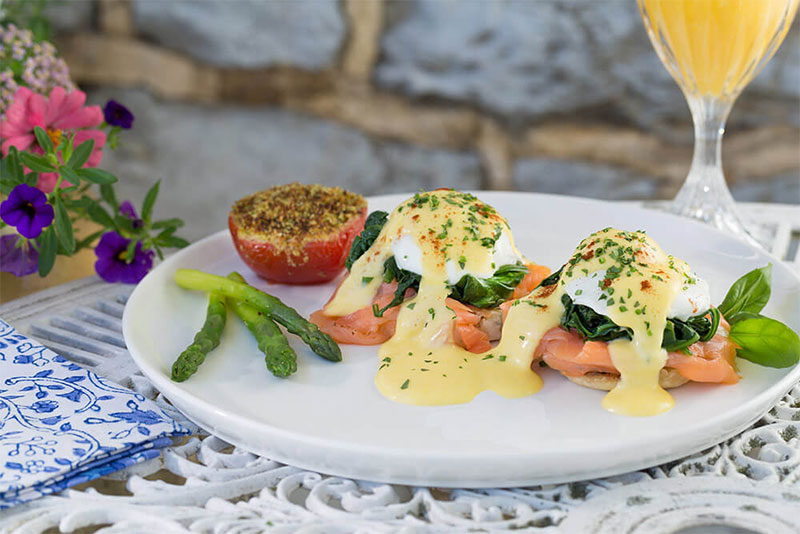 L'Auberge Provencale, Virginia
Outside, Inside, Parlor, Bedroom, Porch & 2 Seatings
We have 3 individual dining rooms and 5 tables that normally seat 52. We can serve 20 to 25 with social distancing and do two seatings if necessary. May offer sitting areas serving couples on trays. Allowing breakfast in bedrooms. Offering seating at two tables on open air, covered porch. Seating in the front parlor. One table also available in the indoor pool area. We are blessed with a lot of common area and we can maintain 6 foot social distancing for all guests.
Staggered Times & Assigned Tables – We will give our guests the option of in room or dining room. We plan on serving breakfast in our dining room by having different rooms eat at different times at an assigned table that is not used by other guests and separated by more than 6 ft from any other tables that are used. We will be limiting reservations to only 3 of our 6 rooms which creates a maximum occupancy of 8.
Two-Hour Breakfast  – We serve breakfast over a two hour period with social distancing created by both time and space.
Reconfigured Public Rooms – We have reconfigured all public rooms and dining areas to accommodate smaller groups of two, four or six.
Boxed Breakfast  We are serving our guests a boxed breakfast with cold continental offering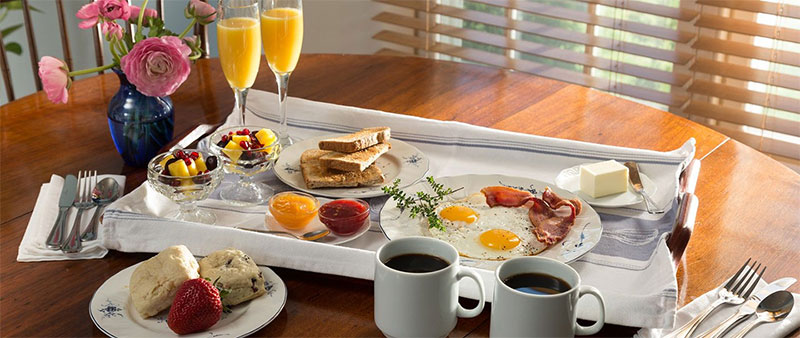 Pick Up & Take to Your Room Or Skip Breakfast with Lower Rate – We will offer guests to come pick up breakfast and take it to their room. We will also offer rooms without breakfast and reduce the rate accordingly
To Go – For now we only offer a "to go" breakfast

Tables Here & There – We have separate tables set up in various parts of the inn so that our guests can enjoy breakfast on the patio or the sun deck as our suites are not very conducive to breakfast in their room but it is an option
Self Serve Continental – Will be offering self-serve continental breakfast—including fresh, warm homemade muffins or pastries (individually wrapped), fresh fruit, yogurt
Basket – We deliver (& have for a couple of years) a "breakfast basket" to each cottage. This consists of a few homemade items, and fresh fruit, and a few packaged items.
Aluminum Foil and Saran Wrap – We have 2 porches – one glass enclosed – one open with tables for 2 where they will be distanced by a few feet ~ and this year we are only offering coffee and tea self serve with OJ in fridge and maybe some muffins or pastry wrapped in foil or saran wrap again for self serve from covered dish
No More Buffet – We have a game table in our living room and will be using it as well as the dining room. Guests will have to sign up for breakfast and instead of a buffet, I will be serving. If the weather is nice guests can also eat out on our porch.
No Breakfast in Bed – I will still offer a plated meal in the dining room, side porch and if need be add a table to the Parlor and/or other parts of the 1st floor.