The Innkeeper Brain, Intense Book Direct for Your Bed & Breakfast

Plan a Trip for Your Innkeeper Brain
Even if it's a simple exchange with another inn – put a trip plan in your brain.
Researchers at the University of Surrey found that people are happiest when they have a trip coming up and that they feel a greater sense of joy and contentment than those who don't have a vacation booked.
It should be a write off because 1. It's an educational inn experience, 2. Innkeepers need to be happy to make their guests happy 3. Innkeepers can relate better with their guests about travel. 4. You would be building your business with referrals from other inns – Hint: trade with an inn 4 hours away so you can refer to each other.
Talk to your tax person, of course. Travel Reduces Stress

Book Direct
Tilden Hotel is Off the Charts with Book Direct – They really mean it with their Book Direct strategy. Note their first page, immediate call to Book Direct. A Solution for those 5-second site visitors from OTAs.
And Take a Look at the Super-Bold Hotel Zelos Book Direct Banner – There's no mistaking the offer with the black on white large type font. "LIFE IS SHORT, MAKE IT SUITE – SAVE UP TO 20% & MORE" Note their image.
Why are they making Book Direct so clear? Because every direct reservation saves their bottom line, helps them create a repeat guest, and trains their regulars to come back to their website – not Expedia's or Booking.com.
If you'd like to amp up your Book Direct strategy contact DRingler@iLoveInns.com for a consult.

A pop-up hotel aimed at houseplant-loving millennials is headed for Chicago
Plant-lovers can spend the night surrounded by ferns, palms and succulents at what's being billed as the first plant pop-up hotel in Chicago.
Can you believe plants ranked as the most desired hotel room amenity for 63 percent of vacationers, according to a recent Orbitz survey of U.S. travelers between the ages of 25 and 44.
And 25% said they'd shell out $50 to $100 more for plant-filled accommodations!!
So Orbitz created 10 guest rooms in the Kimpton Gray into leafy lodging for overnight stays Oct. 18 and 19. The rooms, bookable exclusively at orbitz.com/plantpopup, are inspired by the city's Garfield Park Conservatory.
Venues Include: The Fern Room with lush greenery, a desert vibe room with cacti and succulents or orchids and fruit-bearing plants in the Sugar from the Sun room.
"Plants are the No. 1 thing millennials want in their rooms and I agree with them 100 percent," said Garfield Park Conservatory Alliance president and CEO Jennifer Van Valkenburg, a Gen Xer. "We're all crazy plant people here."

What We Heard This Week
Sister's Motel Sued – "BTW…I don't think I told you but my sister who owns a motel recently got sued for her website not being ADA compliant…just thought I'd share that with you. Talk soon. NY inn owner
So Pleasant – "This whole experience has been so positive and so different from my last website building experience. It has been so pleasant." Dorothy, owner, Valley Springs Farm
Wonderful Job – Website – "If I haven't said this before, y'all are doing a wonderful job." Don, Texas
Ex Husband – "My ex-husband built the site and I need it to be changed. He was handling the changes but his new wife will no longer allow him to speak with me. LOL."

Get Rid of Old Wallpaper the Easy Way
Cover up old wallpaper – This could earn you more bookings if you have the kind of wallpaper that pushes people away. Usually painted walls look better in photos and highlight the other assets in your room, create a clean more spacious look. Video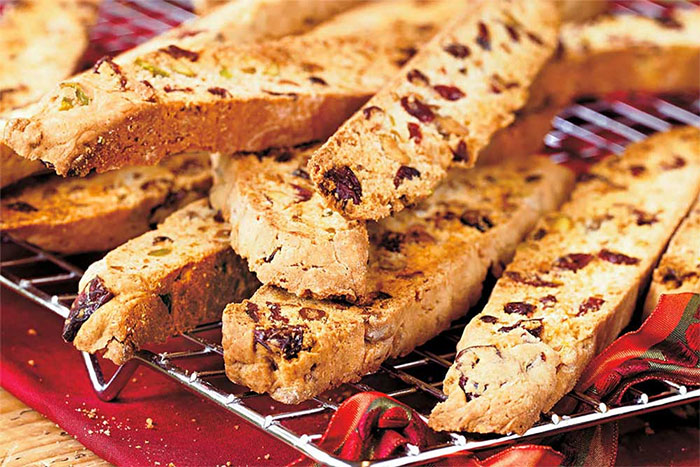 Beazley House's Pistachio-Cranberry Biscotti
Pistachio-Cranberry Biscotti
Prep Time: 20mins. ❖ Inactive Prep: 2hrs. ❖ Cook Time: 60mins. ❖ Serves: 18-20 pieces
1 whole egg
1 egg white
½ C. coconut oil
¾ C. sugar, +1 tsp. for dusting
½ tsp. salt
½ tsp. cardamom
1 tsp. vanilla extract
1 C. pistachios, hulled, coarsely chopped
½ C. dried cranberries (or cherries), minced
1-½ C. all-purpose flour
1-½ tsp. baking powder
Preheat oven to 325º F.
Whisk together whole egg, egg white and coconut oil. Then stir in sugar, salt, cardamom, vanilla, chopped pistachios, and cranberries. Mix well to combine. Add in flour and baking powder. Mix until well blended. Cover and chill for at least 2 hours. Divide biscotti dough half and roll into logs to fit onto parchment-lined cookie sheet.
Bake in preheated oven for 30 mins. Logs will flatten a bit. Let cool for 15 minutes or so. Then, cut each log into ½"-thick strips. Arrange on cookie sheet on side. Bake for 15 mins. then flip strips to other side. Bake for 15 mins. more until golden brown. Let cool 15mins. or so to firm up. Serve with a hot mug of Beazley House Blend coffee.
Cook's Note: When working the dough, wet your hands with cold water or olive oil to keep it from sticking to them. More