20 Great Garden Bed and Breakfasts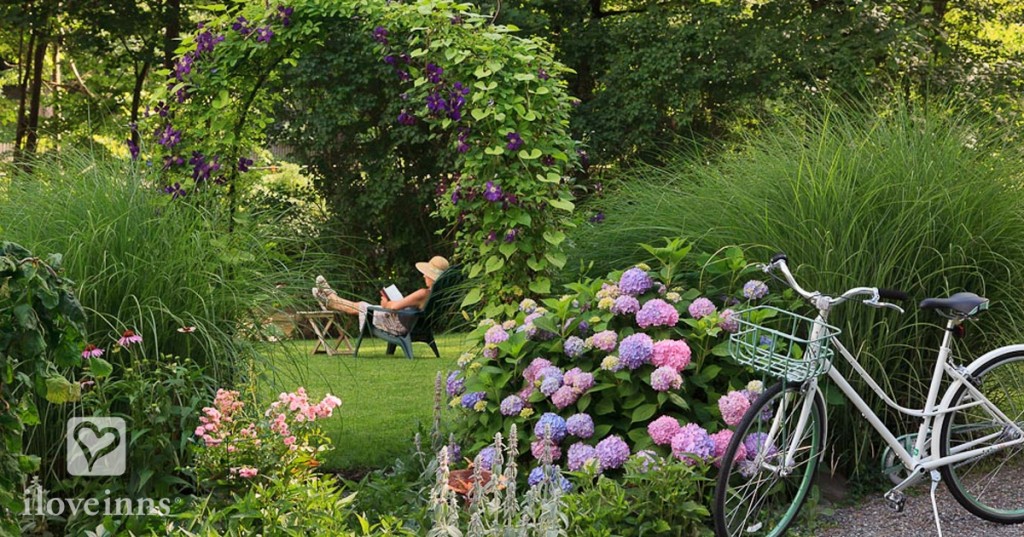 Woodstock lnn on the Millsteam, Woodstock, New York
No Sunshine On Your Shoulder? Feast Your Eyes and Plan Ahead- Spring is Coming to Gardens Near You
If flowers and sunshine makes you happy, brighten your perspective and defrost today by taking some time and planning a visit to a garden, complete with a stay at a bed and breakfast. Schedule a stop at a botanical garden along your way to one of the Garden Inns we've highlighted below and you will be immersed in real spring.
Staying at an inn with gardens is especially inspirational because not only do you fill your lungs with fragrance and your eyes with color and form, you get ideas for your own space when you return home. (Or you just decide to come back to the inn once a month and breathe in their gardens.)
Some inns have kitchen gardens as well as flower gardens. You'll enjoy how they grow seasonal produce and incorporate it into their breakfast offerings such as lavender scones, zucchini bread, mint tea, frittata and quiche.
Inns often incorporate streams and brooks and waterfalls into their landscapes, man made ponds and natural hot springs. Audacious hydrangeas, pink and purple, green and white color schemes or rare Victorian specimens and butterfly gardens  bring cheer and inspiration. Spend a little time searching these inns' pages and restore your soul.
Alaskan Frontier Gardens– Anchorage, AK
The Kaleidoscope Inn & Gardens– Nipomo, CA
Bradford Place Inn & Gardens– Sonora, CA
Magnolia Plantation Cottages and Gardens– Gainesville, FL
Kona Kai Resort, Gallery and Botanic Gardens– Key Largo, FL
Hana Maui Botanical Gardens B&B– Hana, HI
River Gardens– Muncie, IN
Meadowsweet Gardens Inn– West Jefferson, NC
Inn The Gardens Bed & Breakfast– Ocean City, NJ
Berry Hill Gardens B&B– Bainbridge, NY
Vintage Gardens Bed and Breakfast– Newark, NY
Hampton's House of Gardens Bed and Breakfast– Southampton, NY
The Gardens Inn – Hartville Bed & Breakfast– Hartville, OH
Flowers & Thyme Bed and Breakfast– Lancaster, PA
L'Auberge Provencale,– White Post, VA
Flowering Fields B&B– White Stone, VA
Sunflower Hill, A Luxury Inn– Moab, UT
Holly Lane Gardens– Bainbridge Island, WA
Sea Cliff Gardens Bed & Breakfast– Port Angeles, WA
Wildflower B&B– Mountain View, AR