Bono Visits Inn, Tesla Gives to Innkeepers, Napa Faces AirB&B, Praline Torte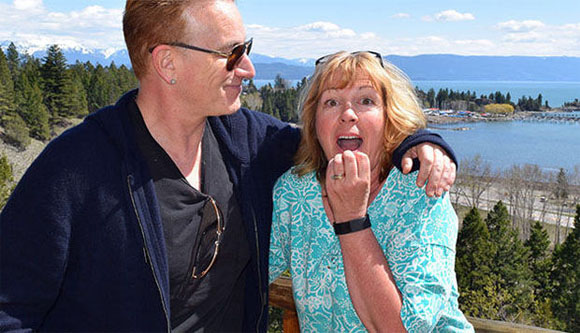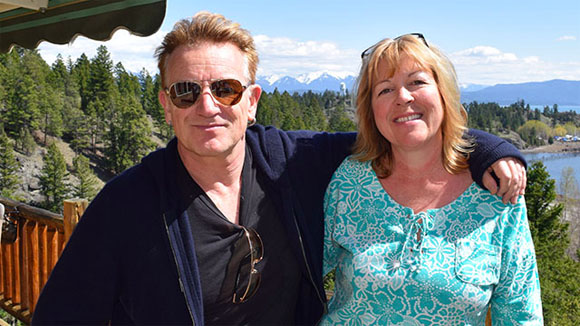 Bono Stops By the B&B – Outlook Inn
Well you never know WHO might be at your door – in this case – Bono himself. Turns out his plane came into town a little early and he wanted some quiet place to hang out. His assistant was staying at Michelle Ahren's inn and quickly asked her if a friend could come by for a few hours. After Michelle said yes, she was told it was Bono – he would be there in 10 minutes. With her priorities straight, the innkeeper ran upstairs, curled her hair and dabbed on some makeup. She made coffee and Bono hung out on the porch overlooking the lake for a few hours. They talked about Montana. Michelle asked if she could get a photo and as they were leaving said, "I'm going to put this on my Facebook."
"Noooo!" the assistant said. "Can't do that. "Maybe in 2 weeks – wait till I give you a go ahead". Sure enough 2 weeks later the assistant sent a message that Michelle could post it. Entertainment Tonight and other shows found it fast and did followup stories with the innkeeper. Morale? Be ready, be generous with your porch and finesse your celebrities. http://www.krtv.com/story/29258539/bono
Get Business Meetings in the Fall By Taking Lush Photos Now – "Boardroom with a View" – Inn at Honey Run, Ohio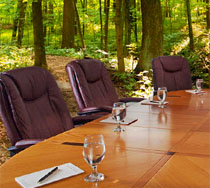 If you've got beautiful nature at your door, do what Honey Run does and capture the imagination by setting up outdoors for a great photo session. Yes it's high season but that might mean that you have extra help, as in table movers who can get excited about staging the best shot. You'll get attention, and what inn can't use 4 or 5 business meetings mid-week in the fall. Start sowing seeds now with targeted emails and flyers to deliver to businesses.
19 Ideas for Your June and July Newsletter
Use these 19 brain starters to outline our next newsletter. It will save you time and inspire you to write that next message to your unique guest list.  Click Here!
Email Newsletters = More Return Guests, More $$$, More Referrals, More Great Reviews
Many inns are missing out on thousands of dollars of reservations just because they don't have time to send emails to their guests.
The Queen Victoria Inn in Cape May sends monthly emails.
Hermann Hill Inn in Missouri sends monthly emails.
According to the innkeepers, their guests love hearing from them.
Here's what they are getting
Reservations
Reservations
Reservations
The 2 newsletters mentioned above are loaded with information about the area, the season and the inn. Readers remember to tell their friends about the inn, make reservations for their next anniversary and add a review to yelp,Trip Advisor, iLoveInns, etc.
Your former guests are your most important asset.
Most innkeepers we work with need only 15 minutes to sketch out what they want to send each month and we do all the rest – photos, graphics, links, managing guest lists – all with confidentiality and professional design. Find Out How »
Contact Jamee@iLoveInns.com, Diane@iLoveInns.com or Jonathan@iLoveInns.com to get a quick quote and start your newsletter today.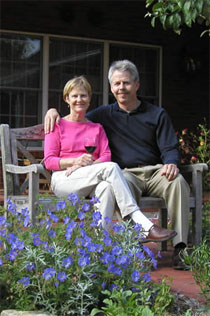 Free Tesla Charge Stations Installed at Inns – Yates House Bed & Breakfast, Rocheport, MO
Tesla in partnership with Select Registry made 100 charging stations free and fully installed for innkeepers. So far 50 have been installed across the county. In an interview with Yates House innkeeper Conrad Yates shown above with his fellow innkeeper, I learned some of the advantages of such a charging station – including bookings for overnight stays by the well-heeled, smart and accomplished drivers of these $90,000 vehicles. Because Rocheport was one of the stops necessary if you were crossing the country for a few months, the Yates had a monopoly on all the traffic and therefore many guests. Though now there are more stations, Tesla owners still come. Thats because the inn is now listed on PlugShare.com and Tesla's in dash GPS. Tesla's website also lists the "destination" chargers. For services rendered to non guests, Tesla suggests a $15 charge (takes $5 of electricity in Rocheport). Tesla also installed ClipperCreek chargers for other electric vehicles for no charge. The future for Tesla includes $30,000 versions in the planning stages. If you have a charging station already be sure to add it to your iloveinns.com listing.
Contribute Even More to Your Town's Tourism – Start a Free Tour Guide Service with Personality Plus Locals
Your community may already do this. I can tell you from experience guests will remember this tour and your town fondly. You don't have to do the tours – just inspire your chamber or inn association to start it up. Knowledgable community leaders, retired personalities, business people are good possibilities to invite. See the Baltimore Sun article below which mentions 3 American cities in addition to Paris and other French towns –
"Global Greeter Network: Free tour of France with new friends – Who said the French were inhospitable? Nonsense. Those uninformed have not used the Global Greeter Network."
Napa Council Faces AirBNB & Home Owner Hosting
Napa city staff came up with some interesting requirements for AirBNB type hosts that include:
Homeowners must respond within an hour in person to any guest requests:
Only two bedrooms per host home for hosted guests
License number and picture of the house must be in any advertising
Only 60 permits will be allowed
Same taxes as hotels
Fines
Chocolate Praline Torte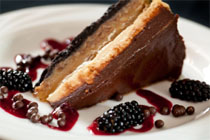 Ingredients:
2 Cup Finely Chopped Oreos
½ Cup Melted Butter
1 Cup Finely Chopped Pecans
12 Oz Butter, Cubed
1 Cup Packed Brown Sugar
1 tsp Vanilla Extract
16 Oz Cream Cheese, Softened
½ Cup Powdered Sugar
1/3 Cup Packed Brown Sugar
8 Oz Semisweet Chocolate Chips
2/3 Cup Heavy Cream