New York City, San Francisco or Grand Rapids – Which Has the Best Airbnb Solution?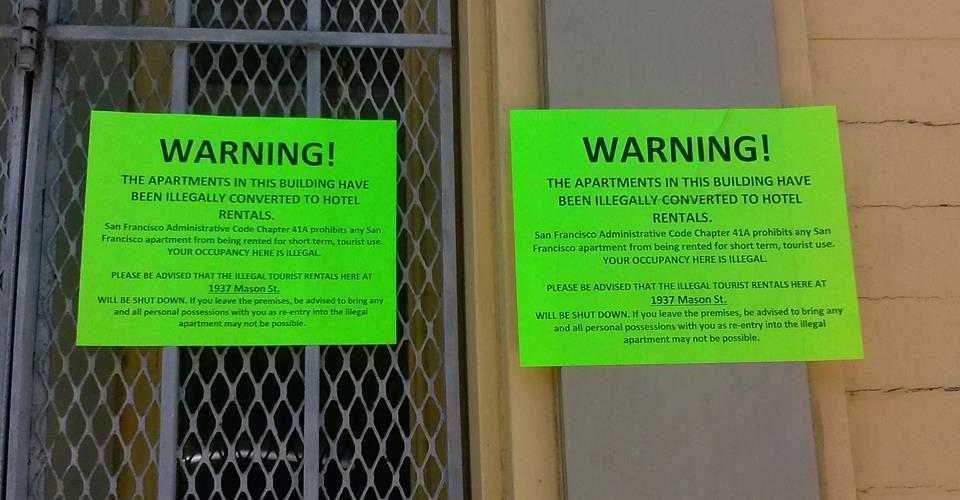 In the ongoing world-wide saga of Airbnb and other home sharing phenomena, cities are finding ways to protect neighbors, guests and the new online share economy businesses. Here are examples of what is being done.
SAN FRANCISCO VS. AIRBNB
According to TechCrunch, on 10/7/2014 the Board of Supervisors in San Francisco meets to vote on regulations for Airbnb type rentals. Here's what is being proposed:
Only 90 days a year can be rented out in non-hosted units.
Hosts have to register publicly with city planning and pay $50 annual fee.
Hosts have to pay hotel taxes, which Airbnb will remit on their behalf.
Must have liability insurance of at least a half million dollars and follow building safety-codes.
Abide by rent-control laws, cannot charge a rate higher then their own rent.
Violations receive penalties and could be charged up to $1,000 a day.
UPDATE: The San Francisco Board of Supervisors passed the ordinance for short term rentals making Airbnb legal in San Francisco. According to BloombergBusinessweek  Airbnb was spared from having to pay back taxes in the deal. But, as many as one third of the current listings on Airbnb will be illegal come February under the new restrictions.
GRAND RAPIDS STARTS A CITIZEN'S TASK FORCE AND SPENDS A YEAR TO FIND AIRBNB SOLUTION
This review of the City of Grand Rapids' process was sent to us by Linda Singer in a reply to our story on the $1Million fine with which Sydney, Australia officials threatened homeowners.
"Grand Rapids where I live and where Michigan Lake to Lake B&B Association is headquartered, just passed an ordinance regulating 'home sharing'. Popularly and erroneously called "airbnbs," these entrepreneurs must now:
Obtain one of a limited number of licenses in the "home occupation" category to operate, which involves meeting fire, safety and health codes.
They must provide dedicated off-street parking.
Are limited to one room and two adults.
Neighbors are notified of the issuance of the license.
If a homeowner wants to rent out two or more rooms, they are welcome to pay the freight to obtain licensing as a B&B.
"Enforcement is via monitoring of Airbnb.com and other such websites. Creating and passing the ordinance took nearly a year of democratically-contentious debate and involved creation of a citizen's task force and numerous public hearings. Hats off to Grand Rapids for protecting the spirit of free and fair enterprise by ensuring a level playing field for all in the lodging industry," reports Linda Singer.
NEW YORK STATE LEGISLATURE MAKES "ANTI-AIRBNB LAW
Before Airbnb, I remember renting an apartment for 5 days from a short term NYC rental agency called Urban Ventures. There were no available B&Bs when we were promoting our Bed & Breakfast and Country Inns guide at a convention there, so with the rental we enjoyed living in a neighborhood and feeling a little like New Yorkers as we walked to the local bakery, commented on the early morning dog walkers and joggers and greeted the building's concierge.
In a recent article by The Enoch Times, entitled Casualties of the Airbnb Wars, the New York State Legislature got involved, making it illegal to rent out rooms in residential buildings for fewer than 30 days unless the host was also living in the unit.
"The law was designed to expedite the prosecution of illegal hotels—residential units clandestinely operated for short-term rental that dodged taxes and safety regulations, a practice made easy by apps like Airbnb—but it inadvertently undermined long-standing businesses like NY Habitat, which rented out many units for less than 30 days….Although widely referred to as the illegal-hotel law, the short-term rental restrictions introduced in 2010 were effectively an anti-Airbnb law.
Airbnb has been charged with "reducing the affordable housing supply in New York City." Collateral damage has destroyed long-standing rental businesses like Urban Ventures as well as traditional bed and breakfasts.
Now in NYC, an anti-Airbnb coalition launched the ShareBetter initiative in early September, a $3 million campaign set on driving Airbnb out of New York City with the stated goal of "saving the city's thin stock of affordable housing."
Also see, "The Dumbest Person in Your Building" New York Magazine.
Which city do you think is closest to a fair decision?
Has your town come up with a unique solution?
What do you propose?