Tips on How to Start A Bed and Breakfast Inn With $100,000

What Innkeepers Want to Tell This Future Missouri Innkeeper About Her $100,000 Budget
Janice Dyer won a Missouri Lottery Scratchers ticket recently. When the dust settled, she had won $100,000.
"Dyer will be using her prize money to restore a mansion she recently purchased in Palmyra, turning it into a Civil War-themed bed and breakfast. She hopes to have the "Some Place Inn Time" bed and breakfast open by this time next year. (2 hours north of St. Louis.) More
In the October 7th InnTouch Newsletter from iLoveInns.com  Innkeepers Was Asked for Advice:
"How would you stretch the money for renovating and marketing on a tiny budget. Please share the ideas that have worked for you.

Riverview Mansion, Illinois
From Riverview Mansion
My wife and I thought we had enough money to start 3 years ago now, but …. hindsight and all.
Our tips are:
Make sure roof and windows are well tended.

Add curb appeal and some cute item in the yard. We have a light up the carriage. Let the townsfolk see you outside working even if you have to hire or trade out much of the work.

Deep clean the corners. Guests notice some of the queerest things

Set up at least 10% for advertising. Forget local papers and radio spots except for special occasions like Valentine's, Xmas, Mothers' Day. Instead, get help to blast your presence out on the web. Facebook, TripAdvisor, an SEO, and mobile optimized website will bring in the business.

Learn the history of the house and the area so you can tell guests stories; for millennials, it's haunted house stories and details about the antiques.

Learn to bake a few special things, and stock your pantry accordingly.

Keep an emergency stash of cash on hand, tucked away for whatever life brings.

Get involved with the local businesses and tourism peeps. Don't be afraid to take cookies to the Mayor. A friendly Mayor is more apt to fix street lights, sidewalks, haul away trash and refer business your way.
We can go on with many more tips we learned the hard way. We hope this helps

Equinox Inn at Biscuit Hill
After 4 years of research and searching, we opened our BnB The Equinox Inn, and below are several things we have learned over the last year: Yes to curb appeal- tidy plants, possibly hanging ferns in the summer…
Website and online reservations are key!

Get involved with local/state B&B Association for mentoring, support and encouragement ($300?)

Guests experience high satisfaction with Comfortable beds, high-quality sheets, and linens! We use Comphy Sheets…. ($1200-1600 per bed)

Attractive breakfast serving pieces, many guests are "foodies" and will take pictures and post to social media. Get them at vintage/resale shops (and estate  sales)

Limit items on horizontal surfaces- that space is for the guest- vertical/wall space is for innkeepers deco.

Have a process for self-check-in- gives you more freedom. We have a RING doorbell and a keypad/keyless entry and had a guest show up early, while I was driving back from the grocery store ($250-300)

Promote what sets you apart from others in the area, either by website event page, emails, local online calendars….

Hamanassett Bed and Breakfast, Brandywine Valley Penn.
From Southern Inn
Attend the AIHP conference in March 2019.  This provides education on all things bed and breakfast.

Get at least three quotes on every renovation project, don't look for the cheapest, do look for the individual/company you trust.

Borrow as little additional money as possible, but $100K is not enough…open as soon as possible to begin cash flow.  Anonymous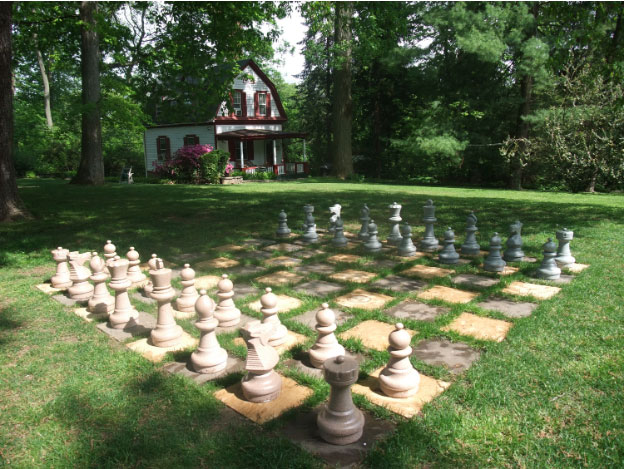 Hamanassett Bed and Breakfast
Hit the auctions and antique store in her area.  You can buy wonderful furniture for so much less than in a furniture store and it is better made.

Bed linens – only buy what you can wash.  I bought beautiful comforter sets but they cost $40.00 every time they need to be cleaned.   

Hamanassett



Netflix's New Bed & Breakfast Design Show, Innkeepers Book Direct Campaign, Southern Living On Tipping Innkeepers, Egg Clouds
The Bed & Breakfast Innkeeper's Department Store Discount, Joining iLoveInns.com
Bed & Breakfast Innkeepers Make People Dramatically Happier, FTC is Against Booking Deception, Meghan Markle Breakfasts
Bed & Breakfast Innkeeper Serenades Guests in Newsletters, Fall Picnics Bring Guests, The Right Link for Seattle's $10 Airbnb Tax, Breakfast Quesadilla Make Ahead 30 Days